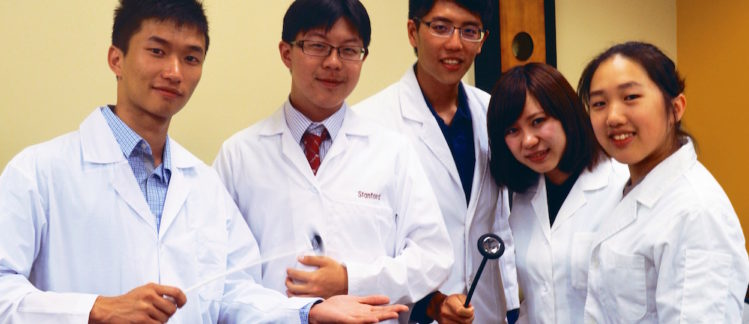 Overview
Program Dates: August 6-26, 2017
Open to: Medical students from mainland China, Japan, and Taiwan interested in comparative health care
Location: Stanford University, California
Application Deadline: All regions of Asia: April 28, 2017
Deadline for applicants from all regions of Asia is April 28!
VIA's Medical Exchange and Discovery (MED) Program brings together students from top medical schools in mainland China, Japan, and Taiwan for three weeks of rigorous comparative health care studies. Through visits to medical organizations across the San Francisco Bay Area, guest lectures, and interactive workshops, participants obtain firsthand exposure to the innovative approaches being developed to treat patients from diverse backgrounds. In addition, participants work closely with their peers, including students from Stanford and UCSF, to think critically about the strengths, weaknesses and future direction of health care in their home countries.
Details
The MED Program is offered in two tracks:
Novice Track: emphasizes hands-on simulation activities to develop foundational clinical knowledge and skills that are useful in a variety of medical settings. This track is ideal for 1st and 2nd-year students.
Advanced Track: provides opportunities to deepen clinical knowledge through physician shadowing, USMLE preparation, and medical case study. This track is open to 3rd, 4th, 5th, and 6th-year students.

The program fee includes:
Stanford dormitory housing
Transportation
Most scheduled activities
Meals
Program fee total: $4,800 (estimated)
Costs NOT included in the program fee:
Airfare
Travel insurance
ESTA or visa processing fees
Optional activities
Personal shopping expenses
Vaccinations
"During this program, there were so many great opportunities to think about my future and career as a doctor." – Maiko Fujita, MED 2014 Participant, Tokyo Women's Medical University, Grade 1
"In Arbor Free Clinic, I got to shadow a psychiatry resident, and it's a very special experience to see how the resident does history taking and case reports. I also had a chance to ask questions to a psychiatrist about the mental health system in America." – Frank Lu, MED 2014 Participant, National Yang-Ming University, Grade 2
"American medical students had a great impact on my mind! I followed a med student at the VA hospital, and was surprised at the high level of his clinical skills. He worked as one of the team members like a doctor. When he talked with some doctors about the patient's condition I realized I knew very little about it, and not just because of my lack of English skills. This experience made me realize that we need to learn more and gain the ability of turning knowledge into action. Not only the American students but also the Japanese ones inspired me! The participants were highly motivated. We talked about what we learned from some activities and enhanced our knowledge together." – Mayu Sakurai, EHC 2013 Participant, Tokyo Medical University, Grade 5
Open Application Period
February – April: Applications open
Early March: Info sessions in Taiwan
Mid-April: Info sessions in Japan
Application Review & Acceptance Period
April 28, 2017: Application deadline
May 8-12, 2017: Interviews & acceptance notification
Orientation Sessions – Mid- to late May
Application Process
To see if this program is a good match, we want to know get to know you: your interests, experiences, and motivation for joining the program. The application includes 3 sections, to be completed in English:
Section 1: Personal, University, and Contact Information
Section 2: Short Answer Responses

Why do you want to participate in the MED program? What do you hope to learn or achieve?
Describe 1-2 health care topics or issues you are interested in, and why they interest you. Possible topics include, but are not limited to: organ transplantation, free clinics for underserved communities, geriatrics, the healthcare system (including insurance), the medical education system, etc.
Why did you choose to become a doctor? How do you hope this program will impact your studies and career?
Help us get to know you better by writing 1-2 paragraphs about your hobbies, your character, and your plans after graduation.

Section 3: Interview Reservation

At the end of the application, you will be asked to reserve an interview time. If your application passes the initial screening, you will participate in a 15 minute Skype or phone interview with the program director following the application deadline.

Photos