If VIA was a life-changing experience for you, pay it forward and support the next generation of cross-cultural leaders and changemakers this #GivingTuesday season! First-time donors have the opportunity to receive a thank you gift from VIA (while supplies last) for their generous donation.
---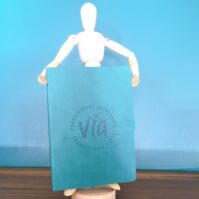 $50 Donation
VIA's gift for a $50 donation is a soft-bound synthetic suede notebook (7 in x 5 in). Features include a elastic band closure, pen loop, ribbon page marker, and a hidden pocket for loose papers in the back. Perfect for travel journaling or brainstorming your next innovative project!
---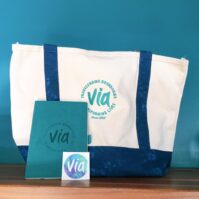 $100 Donation
VIA's gift for a $100 donation is the notebook plus an embroidered canvas tote bag (13 in x 18 in). Reduce your carbon footprint and shop in style with this durable, reusable tote!
---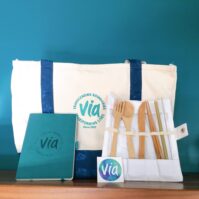 $150 Donation
VIA's gift for a $150 donation is the notebook, canvas tote bag, and bamboo utensil set. Custom made in Vietnam, this utensil set includes a knife, fork, spoon, chopsticks, a bamboo straw, and straw cleaner in a simple cloth case. It's easy to toss in your bag and reduce your need for disposable utensils on the go!
---
Recurring donations are eligible if the total amount of a recurring donation will add up to the gift amount within one year. For example, a donation of $10 per month ($120 per year) is eligible for the $100 gift.
Giving Tuesday Campaign 2019
Thank you for your support! We look forward to sending you a thank you gift for your donation while supplies last.
Through our programs, participants encounter provocative learning opportunities that help them develop into resilient, compassionate, and culturally-competent leaders. Our world needs them now more than ever! Your contribution makes it possible to plant the seeds today that will develop tomorrow's change makers.