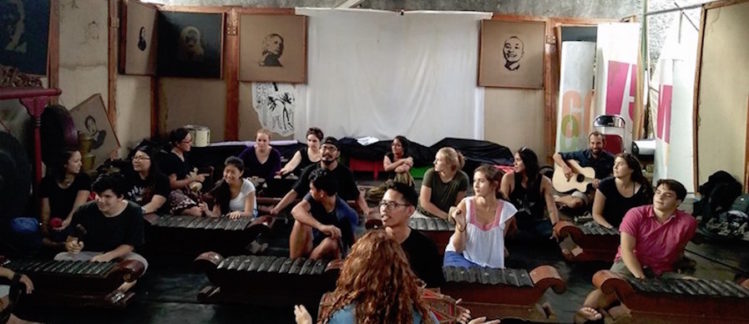 Overview
Program Dates: January 2018
Open to: University students (transferable credit available)
Location: Yogyakarta and Bali, Indonesia
Application Deadline: November 2017
This program blends contemporary culture and politics with rich cultural traditions in the arts. You will examine the arts of Indonesia, as well as the socio-religious and other current issues the country faces, including those related to land, water, ethnic identity, and the environment.
Details
During this program, you will be immersed in the traditions and contemporary interpretations of Hindu and Islamic religious and cultural practices in the context of art and social movements. Students will also study basic Bahasa Indonesia, the national language, for one week during the tour. Students will have the opportunity to practice gamelan and batik making, learn Balinese and Javanese cooking, and explore the UNESCO World Heritage Sites of Borobudur – the world's largest Buddhist temple – and Prambanan.
Cost

The program fee includes:
Pre-Departure Orientation
All Meals
Housing
Local Flights In-Country
Transportation
Entrance Fees & Site Visits
Visa Sponsorship
GeoBlue Study Abroad Accident and Illness Insurance
Tuition
Associated costs for staff, guest speakers, administrative & program operations
Total Program Fee: $3,924.67*
*Costs are estimates and subject to change. For a complete breakdown of the cost, please see SUNY's Winter 2017 Budget.
The costs NOT covered by the program fee are estimated at $1,200, and include:
International airfare
Visa application & processing costs (Socio-Cultural visa)
Incidental expenses (personal spending money)
Passport (if you do not already have a passport)
How to fund your immersive learning experience
There are many different sources of potential funding for internships abroad. First, visit your university's study abroad, international programs, or service learning departments to inquire about institutional scholarships and grants. Universities often have funds set aside for these purposes. You can also search for intern and study abroad scholarships provided by other charitable organizations. We've listed a few of these opportunities on our scholarships page to help you get started.
2017 Program Schedule
January 2-4: Leave US and arrive in Bali
January 5: Orientation and depart to Yogyakarta
January 6-15: Bahasa Indonesia language classes, site visits, and workshops
January 16-18: Return to Bali, visit local NGOs and artists
January 19: Fly back to US
Eligibility
Applicants must be currently enrolled as an undergraduate or graduate university students, and have a 2.5 GPA.
Click the "Apply" button at the top of the page to access the application through SUNY Cortland's Study Abroad page.
To Apply
Follow application directions on SUNY's Study Abroad home page. Your online application requirements include:
Study Statement
Two Recommendations
Official Transcript