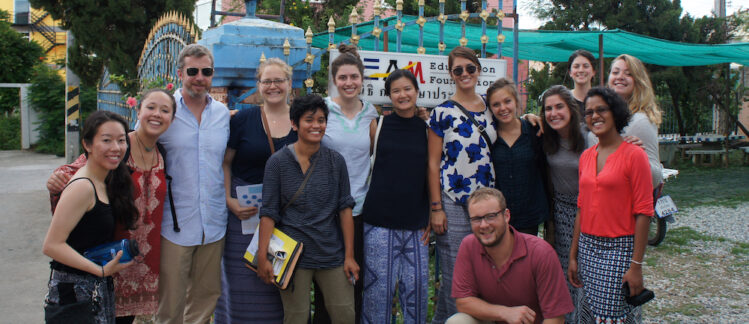 Overview
Program Dates: June 13 – July 4, 2020
Open to: Duke and Stanford student athletes
Location: Chiang Mai, Thailand
Program participants will spend three weeks in Chiang Mai, Thailand supporting the work of BEAM Education Foundation (BEAM). BEAM's Higher Education Program provides local marginalized youth with non-formal secondary education and enables participants to be admissible to institutions of higher education in Thailand and abroad. ACE student-athletes will support this work by developing and implementing activities that provide academic preparation, leadership training, and encourage physical fitness for the participants.
Details
Service Opportunities
ACE participants will engage with approximately 25 participants who are enrolled in BEAM's Higher Education Program. The curriculum for this program includes preparation to take the General Education Development (GED) exam, an American-based and internationally recognized non-formal high school diploma course, which allows students without formal education backgrounds to receive an official high school diploma. Each May, a new cohort of students, many of whom have spent their previous educational experiences at Migrant Learning Centers located in refugee camps, begin GED test preparation. For the next two months, the students are introduced to standardized academic methods to prepare for the rigorous exam.
The ACE participants will join and develop activities designed to complement the BEAM GED curriculum, improve leadership skills, and encourage physical fitness. ACE participants will help students with study skills, academic writing, note taking, presentation skills, and debate activities. Additionally, ACE participants will join BEAM's Youth Club for 1-2 sessions which connect more than 50 BEAM alumni in Chiang Mai for cross-cultural learning opportunities. ACE participants will also conclude their service by documenting their workshop lesson plans to share with BEAM for future use.
Language & Other Prerequisites
No specific foreign language or technical skills are required for students to participate in this program. Students will have linguistic and cultural support throughout the program from VIA and BEAM staff. A background in teaching, coaching, or youth development is helpful.
Personal Competencies
For all programs, VIA seeks participants who embody the following characteristics:
Learning mindset – seeks to frame all situations, including challenging and difficult ones, as an opportunity for learning and growth.
Empathy and cultural sensitivity – effectively and respectfully communicates and interacts with people of different ages, races, religions, and cultures; demonstrates curiosity about the lives of others without judgment.
Commitment to honest and ethical behaviors – actively seeks to understand and adhere to the values, policies, procedures, and protocols of ACE and their host organization/community; lives up to commitments and promises they make to others.
This program is organized in partnership with Stanford University's Haas Center for Public Service and the Rubenstein-Bing Student-Athlete Civic Engagement (ACE) Program at Duke University. For more information and instructions on how to apply, please visit the ACE website.