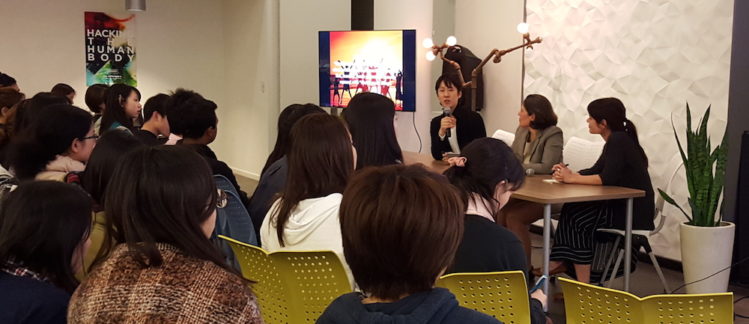 Overview
Program Dates: Postponed until Spring 2020
Open to: Educators with a focus on social innovation
Location: Palo Alto & San Francsico
This professional exchange brings together educators focusing on social innovation to share ideas with each other and thought-leaders and professionals in Silicon Valley. The program will include joint sessions with VIA's Design-Thinking for Social Innovation (DSI) program cohort of university students from Japan and Stanford University, visits to Silicon Valley companies and campuses, and roundtable discussions with local university faculty.
Details
To register for this program, please click the blue "Apply" button and complete the registration form. After you complete your registration, you will receive an email confirmation. The program director, Yi Zhang, will be in contact after the deadline to follow up and discuss your interests in more detail.

---
Estimated Costs
Registration Fee 

Regular rate – $1,750 USD
Alumni rate – $1,450 USD
Registration deadline – February 3, 2019
$500 fee deposit due upon invoice receipt
Final payment – March 1, 2019

Included in Program Fee

Transportation for scheduled events
Most activity fees and associated costs
Group arrival lunch & departure dinner

Individual Expenses (not included)

International airfare
Transportation to/from airport
Accommodations in Palo Alto
Travel insurance
Most meals & optional activities
---
Visa Requirements
Travelers with passports issued from Japan, Taiwan, South Korea, and other regions included in the US Department of State's Visa Waiver Program (VWP) do not need to apply for a visa to enter the United States. VWP enables most citizens or nationals of participating regions to travel to the United States for tourism or business for stays of 90 days or less without first obtaining a visa. Travelers must apply and be approved through the Electronic System for Travel Authorization (ESTA) prior to travel. If you prefer to have a visa in your passport, you may still apply for a visitor (B) visa.
Travelers from regions not included in the VWP must apply for a B1/B2 visitor visa. VIA will provide a visa invitation letter as proof of participation in this program to participants who require a B1/B2 visitor visa.
"It was great opportunity for me to trigger to extend my scope toward social innovation from innovations of technology, business, service, etc. My view to social innovation is a kind of extension from such the innovations, whose benefits may be limited to persons concerned to them, toward activities which may contribute to create and/or develop social capital." – Satoshi Kabasawa, North American Center for Academic Initiatives Osaka University
---
"I got many hints and knowledge for my work during this program." – Mai Okada, Rikkyo University
---
「皆さんそれぞれ、ご自身で新しいことをつくられているクリエイティブな方々ばかりで学びが多くあり、とてもexcitingでわくわくする毎日でした。このような機会を頂いたことに感謝しています。それにしてもサンフランシスコやシリコンバレーは刺激とエネルギーに満ちていて素晴らしいところですね。いつか日本でもこういう場所をつくりたいと思いました。」- Terumasa Matsuyuki, Osaka University