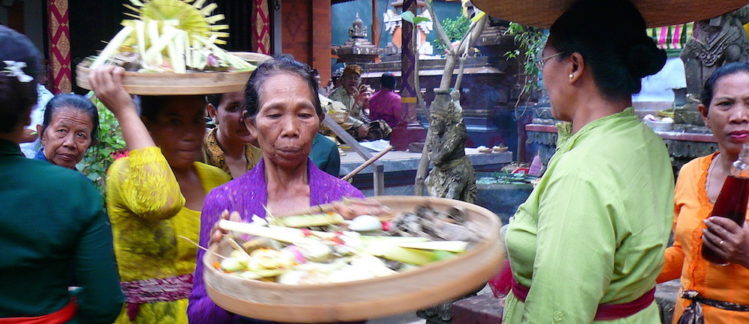 Overview
Program Dates: June 28 - July 7, 2018
Open to: Professionals, VIA alumni, and guests/travel companions/partners
Location: Yogyakarta and Bali, Indonesia
Application Deadline: Registrations accepted until May 1, 2018
2018 marks the 50th anniversary of VIA's work and collaborative partnerships in Indonesia. Join VIA for a historic study tour: spend 10 days in Yogyakarta and Bali, Indonesia taking a behind-the-scenes look at history and tourism in these two provinces. Led by Balinese anthropologist Degung Santikarma and VIA's Izzy Rhoads, a PhD Candidate in Law, this is not your average eco-tour.

Details
Issues covered will include: fair trade, gender and sexuality, Islam, permaculture, Indonesian political history and US foreign policy in the region – particularly during the Vietnam War, environmental activism and response to large scale tourism in Bali, disaster risk reduction, arts and social movements and current trends in appropriate technology for community development. The tour will meet directly with local activists and groups in both provinces working on these issues. In addition to meeting with local organizations, we'll explore Bali's rice fields and beaches, Java's volcanoes, and the UNESCO World Heritage Sites of Borobudur – the world's largest Buddhist temple – and Prambanan.
Participants will have access to a curated reading list on contemporary issues in Indonesia, dozens of activists, academics and professionals in Indonesia, and visit VIA partners that are currently hosting long-term fellows from our Global Community Fellowship program. VIA is not a tour company, and this is not your average tour. Each of our excursions and visits to community organizations will be visits to long-standing partners with whom we have developed relationships over nearly 50 years of working in Indonesia. We'll be examining and understanding local issues from people directly involved in advocacy, campaigning and the day-to-day work of social change. We will see tourist and heritage sites from multiple perspectives, and come away from the trip with a multi-faceted understanding of contemporary Indonesia.
Trip Leader Bio
Izzy Rhoads: Izzy was a 2009-2010 VIA volunteer in Yangon, Myanmar, and has worked at VIA since 2011. Before joining VIA she was a Fulbright Fellow in Indonesia. Izzy is currently a PhD candidate in Law at King's College London. She has a BA in Anthropology from Bryn Mawr College and an MA from the University of London's School of Oriental and African Studies (SOAS). Izzy focuses on VIA's short term academic programs, working on designing and running innovative programs for local and foreign students from high school to PhD level. In her free time, she enjoys exploring Central Java's temple complexes and a good karaoke session.
Itinerary
Day 1- 4 Bali
Visit local organizations and activists working on social justice issues in Bali, including Mitra Bali one of Indonesia's largest and oldest fair trade organizations, and WALHI (Friends of the Earth Indonesia).
Enjoy the rice fields, temples and Balinese dance in Ubud. Tour South Bali's beaches, exploring the environmental and social effects of mass tourism on the island followed by dinner in Taman Baca, a local meeting space and library for socially engaged youth.
Visit sites associated with past political violence in Bali, guided by survivors and witnesses, followed by a group discussion with survivors and local academics and activists.
Day 5-8 Yogyakarta
Visit a village on the foothills of Merapi Volcano that has organized their own disaster risk reduction program. Discuss local economic and social issues and how they self-organized to remain in their village.
Watch sunrise at Borobudur followed by a visit to Bumi Langit, a wildly popular permaculture center with a delicious café for lunch and a tour and discussion with the founder on what he calls "Islamic Permaculture".
Visit Prambanan and Ratu Boko temples with Jaladwara, a local organization dedicated to bringing Indonesian archaeology, architecture and history to life through experiential learning and sustainable tourism.
Enjoy an evening performance of the Ramayana Ballet.
Visit and meet with many of VIA's partners, including Yayasan Dian Desa, VIA's oldest partner to look at current trends in appropriate technology and village development in Indonesia.
Discuss LGBTQ issues in Indonesia with local activists, intellectuals and service providers.
Visit Yogyakarta based artists involved in social movements from the 1960s to the Reformasi period to discuss arts, politics, and social movements.
Day 9-10 Bali
Enjoy free time in Bali for the final day, concluding with a group dinner, and depart for the US the following day.
Download: 50th Anniversary Indonesia Study Tour Itinerary (PDF)
Participation Costs
Non-alumni participation fee: $4,000
Discounted VIA alumni participation fee: $3,750
Included:

 Most meals, lodging, admission tickets, travel insurance, and local transportation (including flights between Bali and Yogyakarta).

Not included:

 International airfare, personal spending, some meals
Group Rates: For groups of 3 or more, we can offer a reduced participation fee. Please contact Izzy Rhoads (izzy@viaprograms.org) if you are interested in arranging a group rate.
Payment Process
Payment for the Study Tour will be made in two steps:
After submitting your registration form, you will receive an invoice for a $500 deposit to reserve your space on the program. The due date for the deposit payment will be noted on the invoice. This deposit is refundable for any reason until March 1, 2018. After March 1, 2018 the $500 deposit is only refundable if the program is canceled by VIA.
A final invoice will be issued for the remaining balance due once the number of participants enrolled for the tour meets the minimum capacity threshold.
Please note, $500 of the final payment will be itemized as a tax deductible donation to VIA. Once the final invoice is paid in full, you will receive confirmation of receipt of your donation. This amount is nonrefundable for any reason.
Housing & Transportation
All accommodations and in-country transportation will be arranged by VIA, and is included in the program fee. Most hotel rooms will be single occupancy. In cases where double-occupancy is available, you will have the opportunity to select your preference and indicate if you have a preferred roommate.
Traveling in Indonesia
Our staff are very familiar with the locations on the program itinerary and are able to accommodate a variety of special requirements.
We can accommodate food allergies, intolerances and special diets.
We can accommodate various mobility levels and health issues – just let us know in advance what your needs may be.
The cost includes travel insurance/health/evacuation insurance for the duration of the trip – we will make sure you receive prompt, quality medical attention should it become necessary.
All accommodation will be in local full-service hotels with air-conditioning, wifi, hot buffet breakfasts, and mosquito control.
Generally, the physical activity level is low. However, there will be some walking tours at locations that are mostly wheelchair accessible, except for a few areas. We will let you know in advance how physical the day's activities will be. Your activity level is largely up to you – we encourage more active and adventurous participants to take morning walks, bike or run in Bali, or explore Jogja on foot or on bike.
"VIA is an incredible group of people that truly have a love for their own culture and for others. Their ability to share this love for cross-cultural communication is extraordinary. It is a second-nature to them, and it is all the more remarkable when these members share their stories, and allow us to experience new situations. Well done to all members within this organization."– Joshua Mahuna, Summer 2016
How to Register for the Study Tour
Register Online – Click the REGISTER button below to complete the online form.

Register by Mail or Email – Download registration form linked below. You can choose either a Word doc or PDF version. After you have filled out the form, it can be emailed to Melissa (melissa|at|viaprograms.org) or mailed to our office: VIA c/o WeWork, 995 Market Street, San Francisco, CA 94103.
In March, VIA will contact all registered participants to obtain additional information, including passport details, travel information, and emergency contact's information.