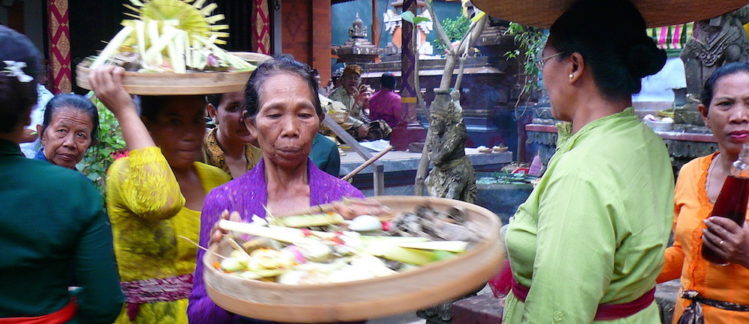 Overview
Program Dates: June 28 - July 7, 2018
Open to: Professionals, VIA alumni, and guests/travel companions/partners
Location: Yogyakarta and Bali, Indonesia
Application Deadline: March 1, 2018
2018 marks the 50th anniversary of VIA's work and collaborative partnerships in Indonesia. Join VIA for a historic study tour: spend 10 days in Yogyakarta and Bali, Indonesia taking a behind-the-scenes look at history and tourism in these two provinces. Led by Balinese anthropologist Degung Santikarma and VIA's Izzy Rhoads, a PhD Candidate in Law, this is not your average eco-tour.

Details
Issues covered will include: fair trade, gender and sexuality, Islam, permaculture, Indonesian political history and US foreign policy in the region – particularly during the Vietnam War, environmental activism and response to large scale tourism in Bali, disaster risk reduction, arts and social movements and current trends in appropriate technology for community development. The tour will meet directly with local activists and groups in both provinces working on these issues. In addition to meeting with local organizations, we'll explore Bali's rice fields and beaches, Java's volcanoes, and the UNESCO World Heritage Sites of Borobudur – the world's largest Buddhist temple – and Prambanan.
Participants will have access to a curated reading list on contemporary issues in Indonesia, dozens of activists, academics and professionals in Indonesia, and visit VIA partners that are currently hosting long-term fellows from our Global Community Fellowship program. VIA is not a tour company, and this is not your average tour. Each of our excursions and visits to community organizations will be visits to long-standing partners with whom we have developed relationships over nearly 50 years of working in Indonesia. We'll be examining and understanding local issues from people directly involved in advocacy, campaigning and the day-to-day work of social change. We will see tourist and heritage sites from multiple perspectives, and come away from the trip with a multi-faceted understanding of contemporary Indonesia.
Trip Leader Bios
Izzy Rhoads: Izzy was a 2009-2010 VIA volunteer in Yangon, Myanmar, and has worked at VIA since 2011. Before joining VIA she was a Fulbright Fellow in Indonesia. Izzy is currently a PhD candidate in Law at King's College London. She has a BA in Anthropology from Bryn Mawr College and an MA from the University of London's School of Oriental and African Studies (SOAS). Izzy focuses on VIA's short term academic programs, working on designing and running innovative programs for local and foreign students from high school to PhD level. In her free time, she enjoys exploring Central Java's temple complexes and a good karaoke session.
Degung Santikarma: Balinese anthropologist who works on political violence and the aftermath of violence and trauma in Bali. His most recent work is in press with the University of Pennsylvania and is the result of 20 years of collaborative research with his wife, Prof. Leslie Dwyer, on post-conflict memory in Bali.