By Dave Austin, VIA Community Engagement Coordinator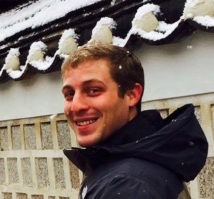 As VIA celebrates its 55th Anniversary in 2018, I also celebrate my one-year anniversary with the organization. My time here began on September 11th, a day most Americans pause to reflect with heavy hearts on one of the worst attacks ever carried out against us; a day when the entire world was shaken awake to tensions rising in the international community. While this day should, and will, live on in memory of Americans for decades to come, I find it almost fitting that it marks the beginning of me doing my own small part to bring peace and understanding to the world.
As I sit and reflect on this whirlwind of a year that I have had with VIA — a year in which I ground out deliverables to complete my master's degree, supported 131 students and coordinators from all over the world on summer programs at Stanford, helped train our incoming cohort of Global Community Fellows in southeast Asia, mentored cross-cultural teams on community revitalization projects in natural disaster-ridden northern Japan, and hosted two Alumni Summits in Chiang Mai and Tokyo (just to name a few) — I am at a loss for where to begin. My heart swells, my mind races, and I have to take a deep breath just to absorb all that I have seen, heard, felt, smelled, and tasted; all the people I have met along the way that have sincerely changed my life.
Above all, I feel inspired. I feel proud. I feel driven.
My VIA journey started last September with a graduate project in Program Design & Assessment — a core course of my master's degree in International Education Management at the Middlebury Institute of International Studies — in which myself and two colleagues from my grad program worked together behind the scenes on VIA's American Language & Culture (ALC) Program. It was during that Fall semester that I met all the staff and learned the working culture of VIA.
These are people driven not by profits or recognition, but by a genuine mission to promote cross-cultural understanding and collaboration in the world. These are changemakers and risk-takers; people who don't shy away from the unknown and will face any challenge head-on and with confidence. People like Melissa and Yuki, our grad project mentors, who from day one not only welcomed our fresh perspectives, but also encouraged our innovative thinking; who taught us that everyone has something valuable to contribute and enabled us to do so. People like Yi, who has a truly unique gift to inspire learning and creativity in every room she enters. People like Lina, who brings so much knowledge in education and is determined to make a difference in people's lives. People like Patrick and Peter, who excite not only a sense of adventure in everyone they meet, but push them to be critical of why we are here, who we are helping, and how we are helping them. And people like Kazutoh, who first recognized the impact that VIA could achieve when he was just a college kid on the ALC program, and has since risen to Executive Director of the organization, where he inspires us every day with his vision for the future.
The passion I felt and the mentorship I received from this humble, tight-knit family of changemakers is what brought me back after that first grad project. I returned in the Spring to complete the capstone requirement of my master's program as a practicum student with VIA, this time working on alumni engagement strategies. It was during that time that I learned the meaning of a "lifetime of impact".
I learned that VIA strives not just to provide a fun program experience where everyone makes lots of friends (although that's definitely part of it), but that our programs are meant to be the beginning of something much bigger. They are a kick-starter for creative problem solving, bringing people from all over the world together to address humanity's most pressing challenges: to create a more sustainable planet, reduce poverty, promote gender equality, tear down language barriers, encourage healthier living, and resettle refugees (again, just to name a few). Our goal is to develop leaders who will continue applying what they learned on our programs towards making a real, positive difference in the world – together.
As summer rolled around — VIA's busiest season — I had the opportunity to see this impact in action, immersing myself in programs both here in the U.S. as well as out in Asia: we hosted our first Alumni Summit in Chiang Mai, Thailand, where we also held wrap-ups for our outgoing Global Community Fellows and facilitated training for the incoming ones; I lived on campus at Stanford University for our Medical Exchange & Discovery (MED) and American Language & Culture (ALC) programs; and I traveled to northeast Japan with a group of 24 students from Stanford, Rikkyo, and Hong Kong Universities to participate in collaborative rebuilding projects with communities worst affected by the 2011 Great East Japan Earthquake & Tsunami. All of this opened my eyes to the wider impact that VIA strives to make, and taught me that each individual program is like a piece of a much larger impact puzzle.
Every day with VIA, I see this impact unfolding before my eyes.
I see it in the American Language & Culture program, which attracts some of the best and brightest young minds from top universities in Asia – places like Japan, Taiwan, Hong Kong, Macau, and mainland China. These are regions of the world shrouded in historical conflict with one another, and VIA brings their most promising students together to share dorm rooms, team up on research projects, and together develop the skills they need to become future leaders of their respective countries. Our hope — our lifetime of impact that we strive for — is that when they do become leaders in their communities, that they will remember fondly the friends that they made and the memories they have shared, and that, perhaps, this will help bring stability to a region of the world where peace is fragile.
I see it in my host grandmother in Japan, Obāchan, who, when I gave her a card thanking her for welcoming me into her home, told her how honored I was to be her grandson, and encouraged her to come visit me in the US (and meant it!), she hugged me so tight, started crying, and sobbed out: "you should be married by now, but you are such a nice young man that I am sure you will meet someone, and when you do, you can bring her to Rikuzen Takata and stay with us for your honeymoon." Whether or not I will actually return for my honeymoon is still TBD, but I am certain that for one reason or another I will be visiting Obāchan again soon. That two-week program led me to a Japanese family for life.
I see the difference that VIA has made in Cristina Ammon's life, a story that brings her close to tears every time she tells it. Nearing the end of her sophomore year, Cristina was struggling to find her niche at Stanford. It was through her first VIA program, Design-thinking for Social Innovation (DSI), that she found a community of "brilliant, talented, absolutely genuine people" from all over Asia and the US that have become some of her closest friends, and inspired her to pursue Urban Sustainability as her major at Stanford. I see the joy on her face as she exchanges language, culture, and deep (and/or goofy) conversation with her new friends from far-flung corners of the world completely different from her own. It's relationships like these that have reinvigorated her at Stanford; that brought her back to VIA as a coordinator for the ALC program, a participant in the Community Revitalization Project in Rikuzen Takata, Japan, an attendee to the 2018 Alumni Summit in Tokyo, and next Spring as a coordinator for the program where she started it all: DSI. She is a rockstar alum if ever there was one!
I see it in Sarah Goulart, who, through VIA, was given her first ever opportunity to travel abroad, also participating in the Community Revitalization Project in Rikuzen Takata following her summer as a coordinator for ALC. We spent the entire flight home from Japan discussing the value of travel, of leaving your comfort zone, of expanding your mind to learn how others around the world live their daily lives. Sarah is deeply passionate about social activism back home in the US, and is broadening her perspectives to learn how social change comes about in other countries. Japan may have been the first trip abroad for her, but I am certain it will not be her last. She hopes to become a professor of sociology one day, and when she does, I am sure she will offer her students an international perspective that she developed through VIA.
I see it in Dana Zhao, a rising sophomore at Stanford, with whom I have spent hours discussing the importance of challenging our assumptions, listening to underrepresented voices, and reciprocating impact with the communities that have welcomed us. I see how much heart she puts into everything she does, and it fills me with pride when I notice these same qualities reflected in those around her. For many years to come, she will continue to be a powerful force for good in the world, and inspire others to follow her lead.
These are just a few quick examples that jump to mind when I think of the impact I have witnessed. I look so forward to seeing where life takes all of these people, each and every one of them comprising their own individual pieces of that larger impact puzzle. The world is so lucky to have all of them!
As I contemplate where my own piece fits into the VIA puzzle, I am reminded of one thing: I am an only child. That may seem out of nowhere at first, but I assure you its not. Growing up, I always wanted siblings. I think of VIA as my second family: the staff have mentored me as if I were their younger brother; and I, in turn, have mentored the coordinators, participants, and many of the alumni as if they were my own younger siblings. Our partners, for the sake of the metaphor, may be thought of as family friends — perhaps not directly related, but still people I care deeply about maintaining positive relationships with and supporting towards our common goals. And each of the communities we work with make up the places we call home. Each and every one of these pieces fits perfectly around me, supporting me as I find my own place in this puzzle, in life. They allow me to be everything I always wanted to be: a brother, a good friend, a force for positive change in the world. I can only hope that I offer the same for them.
Oh, and can't forget Obāchan, of course, to whom I will always be a lifelong grandson.