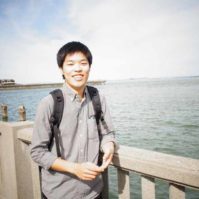 "I've learned that our roots could be the resource of power.
I've learned that even if the roots gives us negative perception, we can change.
I've learned that we don't have to be the slave of our roots."
These are the three learnings from what I have done in the beginning of 2017.
---
Let me introduce myself to you. I am Yoshitaka Miura. I am one of VIA's alumni. I participated in 2014's ESI (Exploring for Social Innovation) program and returned to San Francisco as a coordinator for 2015's ESI program and DSI (Design-Thinking for Social Innovation) program. I lived in Kyoto, Japan, Quebec, Canada for one year, and work in Tokyo in a design-consulting company, VOLOCITEE Inc. presently. I do art projects with art students sometimes privately and I have started a project for creating a multifunctional creative space for artists and creators in Tokyo.
In the beginning of this year, I have organized 3-GANICHI CAMP, which took place in Japan. The participants are from around Japan and Taiwan, including the facilitator, Yi from San Francisco hopefully. It was held in a famous temple, which was firstly built in 744. History piled up on the same ground. It was really great time to hold.
Why did I hold it? That leads to my own roots. That is… I have hated temples.
It is said that there are around 80,000 temples in Japan. The number of them are bigger that the number of convenience stores in Japan. Historically, temples was the center of the regions. Priests played an important role there in teaching knowledge, caring about people's grief and so on. It has rich context from the history.
I was brought up in a temple in Japan. Everyday, many people living in the same region come to my temple. People greet each other there. They stay in the temple drinking tea, chatting with my mother and sharing info. It could sound nice, but lived on the different context.
"Will you take over care-taking of the temple in the future?"
Historically, the son of the temple caretaker will take his temple. This is hereditary in many cases. In Japan, I experienced that every time I introduce myself to others and say my family lives in a temple, people always asked me this. This phrase is really heavy for me. From my childhood, I couldn't answer to the question really well. (Still even now)
I just hate my roots.
Many times, I thought, "I wanted to be born in an ordinary family."
I didn't want to face my roots. When people asked me about temple, I became less willing to say anymore. I couldn't process the feelings in my childhood well. I transferred to other region, for example Kyoto, Canada and live presently in Tokyo.
Have you been faced with your own roots? Some of YOU has been getting away from yours. Some of you could draw power from them. I has been the person who tried to avoid them. Changing something conservative takes energy. Then 2 years ago, one change happened to me.
"You have innovative ideas!"
During the ESI program in San Fransisco, Yi said that to me. These words became stuck in my mind.
In front of the tradition and its conservative aspect, I have felt null. I didn't have the creative confidence of changing the highest mountain (the temple). However, thanks to these words from Yi, I started thinking that I could do something new for changing the temple somehow. That year, I participated as a staff in a art festival held in Kyoto, Japan. It focused on the collaboration between art and religion, especially Buddhism. At that time when I joined the operating team, I said to other members like this:
"I will get involved with this festival because I hate temples."
Maybe other people don't understand fully what I mean. I wanted to change the temples in a creative way. Otherwise, it continues to trap me. I got through the event and experienced the new state in my mind.
The framework of temples in my mind changed! I started thinking that temples are okay. The framework became a bit neutral. After this event, as time passes, I got used to talking about temples neutrally. It could sound really trivial, but I hadn't experienced like that for long.
Finally, my journey against the temple reached 2017 and the present. I held the 3-GANICHI CAMP. This was the first time for creating something relevant to temple from my own desire. Of course, I have got involved with many events and created some events from my own desire. However, holding an event relevant to the temple in that way was really new to me.
I feel I can change even if the structure and authority is conservative. Of course, changing the whole system is really difficult and it isn't always true to change. However, without the will of facing it, we would be the slave of our environments.
I think that my roots became a source of energy. Facing our roots and changing the mental framework enables us to feel good and motivated to change. For me, this is the first step where I have been able to get involved with temples positively.
I've learned that our roots could be the source of power.
I've learned that even if the roots gives us negative perception, we can change.
I've learned that we don't have to be the slave of our roots.
If you feel your roots controls you, this is the time to untie yourself from this bind. I hope this becomes an opportunity to think about our roots and feel that they are really important.
Lastly, I would say that without the positive words to me through ESI program and DSI experience, my perception would still be the same. I appreciate all of the opportunities from VIA. Thanks!
If you have any questions or thoughts, please send me an e-mail. If possible, let's meet up in Japan or somewhere on the Earth. I hope to collaborate with you and hear about your original life. Also, I am interested in creating a camp or art or design event between Taiwan and Japan. If you are interested in the projects, just let me know! I will explain what I think more deeply.
To Contact Yoshitaka Miura
Email: yosi.03030|at|gmail|dot|com
Facebook: https://www.facebook.com/yoshitaka.miura.90