Brunei
---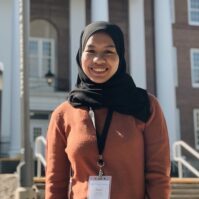 Dk Amal Azhanie Haziqah Pg Hj Abd Kadir
Amal Kadir is a media and communication student, writer by profession, and a media literacy and education advocate in her free time.
A big believer of education outside of class, she has represented her university and country in a number of programs around the world. She is the YSEALI Academic Fellow Fall 2018 Alumni in University of Nebraska at Omaha, USA; Brunei delegate for S Rajaratnam Endowment Youth Model ASEAN Conference in Singapore; Brunei representative for Global Goals Summit, Malaysia; Participant for the Prince of Songkhla University Thai Cultural Camp, Thailand; Participant for AUN Students Week, Universities Indonesia, Indonesia and have studied for a semester in Hankuk University of Foreign Studies in South Korea.
What she hopes to take away from this media literacy workshop is a deeper insight into the issues of media literacy for her to be able to adapt this knowledge into Brunei's social structure and educational system. One of the great things of going to these programs is the network of people that she will meet, and she hopes to build a greater international network amongst media practitioners, journalists, writers, non-profit founders and those who are active in the media industry.
---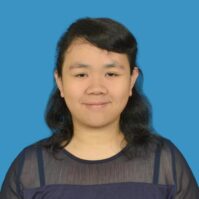 Dk Nur Razanah Binti Pg Abd Rahman
Ana is an undergraduate student majoring in Energy and Power Engineering, currently living in China. Ana believes media is an important platform for communication. Everything happens in one click these days. It brings a lot of good effects to our daily lives. Unfortunately, with every good thing, there is also a price to pay. Hence, this is the main reason Ana chose to attend this workshop. At the same time, she has been able to see how Media revolves around China towards the ASEAN countries. The theme for the workshop may be the same but the exposure is for certainly different. Ana hopes to learn how media literacy revolves in other countries as in China, media is well restricted.
Ana's goal in life is to be a capable and skillful woman as skill is what differentiates one person from another. She can't deny the power of education but experience in life is still a better teacher of a person.
---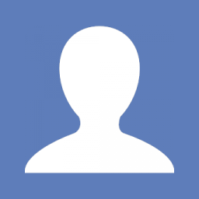 Mohammad Farhan bin Haji Jafar Ali
Farhan is a final year student studying Communications and Media at University Brunei Darussalam.
---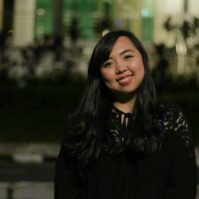 Norhayatunajibah Hj Kifli
Naj is an Education Officer for a public high institution in Brunei. Naj has been actively participating in volunteer programs across ASEAN and Asia. Naj represented Brunei at the World Conference on Youth in Sri Lanka and was involved in the negotiation and round table meetings to produce the Colombo Declaration in light to the Post 2015 Agenda of United Nation. Naj was the founding member of ASEAN Youth Ending Slavery, organising awareness in all 10 ASEAN countries and the focal person in contact with International Organization of Migration X (IOMX).
In 2014, Naj founded Youth Against Slavery Brunei (YAS) which focuses on awareness projects in Brunei. Through YAS, Naj had organized the first Human Trafficking Awareness Exhibition in 2015, and organized the first dialogue session on Human Trafficking issues between government agencies, IOM X and the general public. YAS has been actively promoting awareness on human trafficking with its annual dialogue and conferences by working together with the relevant authority and NGOs in Brunei. In fall 2016, Naj was part of the YSEALI Professional Fellowship program and did her placement at Seattle University, Washington.
---
Cambodia
---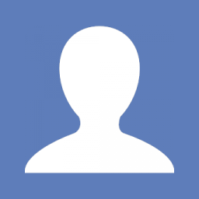 Aun Chhengpor
Aun Chhengpor is a reporter based in Phnom Penh for the Voice of America's Khmer Service. He graduated from the Royal University of Phnom Penh with a bachelor degree of arts in media management in 2017. He was previously employed at The Phnom Penh Post and accepted as an intern at The Cambodia Daily before joining VOA in 2015. He is now also a junior media trainer of media literacy, visual journalism, and social media.
---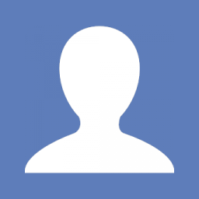 Khuon Sovanvatey
---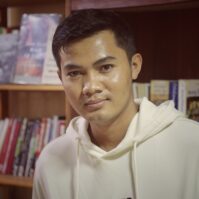 Kimchheang Loch
Loch Kimchheang is currently working at the Ministry of Economy and Finance of the Kingdom of Cambodia. There, he is in charge of Change Management and Communication (CMC) for Financial Management Information System (FMIS) project. Born as the youngest child of a family from a remote area, Kimchheang has been trying very hard to achieve his dream to create a professional media institution based on an online platform in which everyone from various group can express themselves for positive change in the country. After graduating from high school in 2010, Kimchheang won a scholarship to study media management at the Department of Media and Communication (DMC) of the Royal University of Phnom Penh (RUPP). He successfully obtained his bachelor degree in Media Management in 2016. Throughout his rich experiences working with many local media institutions, he has been recruited to work for the Ministry of Economy and Finance. Kimchheang is also a co-founder of Alink Dream media, a social business, which focuses on digital media including the production of short films, documentaries, online TV, and providing digital marketing services.
In this workshop, Kimchheang would like to gain new knowledge and skills on media literacy, and also the opportunities to be able to work with other like-minded young leaders across ASEAN nations. He is ready to transfer the knowledge and skills that he is about to gain from this training after he goes back to Cambodia – one of which is to help to contribute to craft a media literacy policy in Cambodia.
---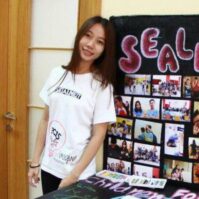 Lyhoung San
---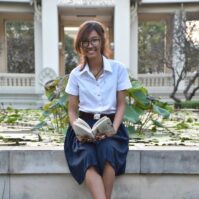 Ravy Sophearoth
Sophearoth is from Phnom Penh, Cambodia. She is a senior student at the Department of Media and Communication (DMC) at Royal University of Phnom Penh (RUPP). She has been involving in journalism, production and research as she did her 6 months internship at the Voice of America (VOA) as a junior reporter and a year internship as a research intern at Cambodia Development Resources Institute (CDRI). Besides, journalism and research, Sophearoth has also taken part of documentary production as she has made a video documentary related to Khmer Rouge Survivors as well as educational videos related to Women and Gender Issue. She is also a member and a project coordinator of The US Ambassador's Youth Council Cambodia.
Joining YSEALI Media Literacy Workshop, Sophearoth wants to get to know other fellow participants in order to understand how media literacy in other countries around the region (ASEAN) is. She is willing to share her junior experiences she encountered for last few years in journalism during the workshop to make discussion more fruitful toward its objectives. She hopes to gain back more knowledge, to learn new things from discussions as well as keynote speakers 'experiences as she aims to carry back better/creative ideas to initiate a new project to help enhance media literacy in her country when she returns back home.
---
Indonesia
---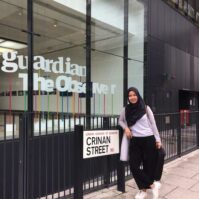 Aghnia Rahmi Syajaatul Adzkia
Nia is a data journalist of Beritagar.id and founder of Journocoders Indonesia, a community for data journalists and data enthusiasts based in Jakarta, Indonesia. She is a former journalist of CNN Indonesia and intern at the Data Team of the Guardian in London. She completed her Master of Science in Digital Journalism at Goldsmiths, University of London.
---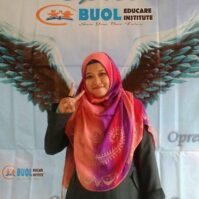 Andi Asrawaty
Andi Asrawaty, often called Asra, is a lecturer, young entrepreneur, author, and founder of Buol Educare Institute (BEI). She completed her undergraduate education at the Faculty of Literature at Hasanuddin University in September 2012 and successfully published her book containing a collection of writings on blogs and media when she was a student. In the same year, she was appointed as a lecturer at an education and teacher training university. In 2013 She continued her master's education until 2016.
She moved to Buol City in 2016. Have been staying a year in the new city, she is very concerned about the low level of literacy and education in Buol. Hence, at the end of 2017, Asra built Education Institution called Buol Educare Institute (BEI) which focus to promote literacy. BEI consists of three divisions namely the English Language Course, BEI's Reading House and BEI Community.
Even though BEI was just built, Asra's success in managing BEI was awarded by the Putra Daerah Bangunan (PDM) Academy as one of the best communities in Eastern Indonesia in November 2018. In the same year, Asra was also chosen to represent BEI to attend a literacy activist residency in Bogor.
At the moment Asra continues to strive vigorously to improve education by campaigning for a culture of literacy as well as the importance of English to the community. Asra believes education is the most powerful weapon to overcome all problems in her country.
---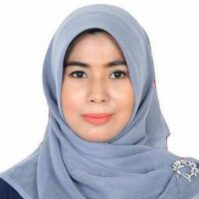 Elvi Rahmi
---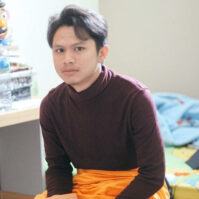 Muhammad Fasha Rouf
M. Fasha Rouf was born in Cianjur, Indonesia. He is a civil servant of Directorate General of Learning and Student Affairs, Ministry of Research, Technology, and Higher Education of Indonesia as a communicator since 2019. He got it after 1.8 years worked as an assistant lecturer and junior researcher in his alma mater, Communications Department, Universitas Pendidikan Indonesia. He loved research. When he was in the third semester, he built a communications studies club, called Gradasi. He received a number of achievements at the national level. Such as First Winner in National Essay Competition (Universitas Multimedia Nusantara, 2017), First Winner in National Discussion Forum of Journalist Days (Universitas Indonesia, 2016), and etc. He was also active as a volunteer in several events, such as Volunteer in Teaching Indonesian migrants' children in Sarawak, Malaysia (August 2015). Interestingly, he studied natural science when he was in Junior High School. He started studying communications because of books and he was really good at story-telling. He was the first winner in the national level of a reading poem (2011) and writing a poem (2012). Because of his reputation, he participated in Sunburst Youth Camp (2011) in Singapore, and International Student Exchange (2013) in Japan. In YSEALI Media Literacy Workshop, he hoped to involve his knowledge and skills, especially in communication for social change. Because he would like to help poor and rural people to join in higher education, and serve the student with good affairs. You can read his journal in www.fasharouf.com, and his community portal, www.buruan.co.
---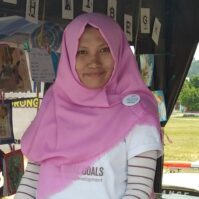 Nur Hayyu Supriatin
Nur Hayyu Supriatin is a trainer of literacy for teachers of early grade students in the rural and remote areas in Sorong Regency at Unicef and UNIMUDA Partnership program. She graduated from high school in 2009 and continued her education with a bachelor's degree in English Education at University of Muhammadiyah Sorong, graduated in 2015. Before working at Unicef and UNIMUDA partnership program she was a journalist in daily newspaper Radar Sorong.
Besides working, she is a social worker who advocates to the village chiefs in rural areas to build a Reading House for all the villagers by using village fund. She is also a volunteer for ASEAN My World Advocate program since June 2018. As an advocate she has some responsibilities such as mobilizing her communities to start action for SDGs, handover event with stakeholders, taking survey, and be active on social media. She also initiated Forum Literasi Sorong Raya and The Youth Networking that called The Youth Changemakers Sorong or Pemuda Bermakna in 2018. In this networking, she embraced over 10 communities to collaborate for the global goals. In addition, she is familiar with empowering and educating the youths and the girls. In addition, to gain her knowledge she intends to join in Media Literacy workshop. After joining in this workshop she will share her experience with the Youth Changemakers Sorong and spread out her knowledge by collaborating with the state radio network of Indonesia in Sorong, West Papua.
---
Laos
---
Soulichanh Luangsombath
Soulichanh grew up in the suburb of Vientiane Capital, Laos. He graduated with a bachelor's in English pedagogy from the national university of Laos. He started his teaching career at a private college in Vientiane before he was assigned to teach at its branch in Vangvieng district, where he stayed and worked outside of his hometown at the time. After one year he retired from his old workplace and moved to the south to work for a public university. During his work, he received a scholarship for intensive English training in Australia for Lao government officials and was selected to join a prestigious Brunei-US English enhancement training project. Those trainings advanced his career and professional development. He graduated Master of Educational Technology from Khonkaen University in 2018. Thus, he has the ability to apply technology tools in his occupation and teaching.
Participation in YSEALI is meaningful for him to practice more advanced academic and specific project field running. He expects to gain more knowledge, capacity, and experience to fulfill his strengths. It is the best opportunity to meet participants from ASEAN countries for building a community network. He prefers to learn from people who have a different cultural background in their work performance. He hopes to contribute this experience to his colleagues and encourage them to apply to YSEALI projects. He is convinced that the project is able to fulfill his ability and use knowledge in working. Additionally, he intends to contribute this experience to his students and inspire them to fight for their dream.
---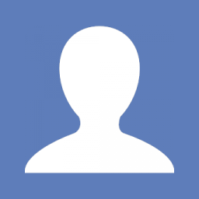 Sounakhone Phomsengsoulinh
---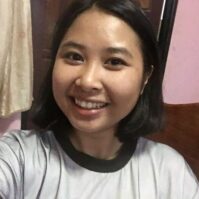 Tulaphet Chindavong
Tulaphet Chindavong was born and studied in Vientiane. She graduated with a bachelor's degree majoring in General Business Management at a university in Laos. Now she has been working on a marketing position for 5 months. Her tasks are administering a Facebook page including, creating content, finding pictures related to the content, and then also posting on Facebook in Lao and English. In the evening, she is a volunteer in her village school to help the English teacher and teach when the teacher is not available. In Laos, Facebook is really influential and most people use it without learning before using, especially people from rural regions. In this workshop, she hopes she will get lots of new knowledge in order to adapt to her workplace and also bring to share with her community.
---
Malaysia
---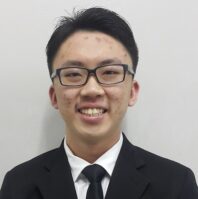 Chiew Yen Khai
Yen Khai grew up in Melaka, a historical city in Malaysia. He was studying economics at the University of Nottingham. After he graduated from university, he worked as the Manager of International Trade and Business Advisory Center, a division of Asian Strategy and Leadership Institute, which is also known as ASLI. ASLI is one of the top think tanks in Southeast Asia. His main role was to assist the British companies from the South-West of England to venture into Southeast Asia by conducting market research and business matching activities.
After he worked in ASLI for one year, he joined the office of the Member of Parliament for Tanjong Malim. Currently, he is the research officer to the Member of Parliament. He is in charge of conducting the research on economic, social and political issues. Aside from that, he is also writing press statements for the Member of Parliament. He also needs to deliver the local services and solve the local issues within the constituency.
He has chosen to join the workshop because he thinks that most people in his country have a low level of media literacy, even himself. Especially with the prevalence of social media and the internet, it is becoming more challenging to identify fake news. He hopes that he can learn more about media literacy and eventually be able to suggest and make some policies which have a huge impact on the media landscape in Malaysia or even Southeast Asia.
---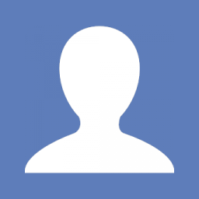 Chung Mann Yee
---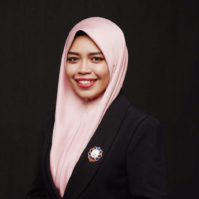 Nur Rodziah Binti Yam Salihin
Rodziah was born and raised in a small village in Malaysia. An ambitious and positive biomedical student from Universiti Kuala Lumpur who possesses a respectful and disciplined personality. As she is known to have both leadership and team player qualities, she has been trusted by the students to become the president of the student representative council on her campus. Her outstanding commitment and involvement in numerous programs at various levels, locally or internationally, reflect her interest, dedication, and tenacious spirit to be a great leader.
As times goes by, while representing the voice of students, she realized it is crucial to communicate effectively in negotiations to ensure the success of certain goals. Effective communication can help to foster a good working relationship and helps a person to understand the purpose of the message, which can, in turn, improve morale and efficiency.
However, the advancement of technology especially in media platform has been a barrier to achieve effective communication. This is because people tend to believe what they saw through the media platform and cause viral effect without analyses the information. She believes media literate is not only able to obtain information, but people must know how to use it wisely, intelligently assess and create new information based on actual knowledge. The media are expected to bring forth a sense of unity and mindset for providing models of life. This program will benefit her to convey the positivity through media platform and Malaysia citizen.
---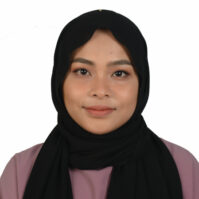 Nurul Akqmie Binti Badrul Hisham
It was the road less taken that has led Akqmie to the academic side of the media. Her decision that was irrefutably different from her family whereby her great-grandfather, great aunties, uncles, cousins, and father were media practitioners. She faced many obstacles, especially one that comes from her family and friends, but her passion has been the driving force for her to get up in the morning and to start working on her research.
Believing that she can create a small change in educating society to have and show more empathy which can be monumental. She believes that society can become a healthier society by showing a little bit more empathy especially now with the alarming cases of mental issues that seem to be on the rise lately in Malaysia. For her, by having empathy and by using the media wisely and most importantly by having the right knowledge about media literacy, a positive change can happen.
Akqmie also believes that her background, her experience in studying media for more than 10 years, her personal involvement in the media scene and at the same time as a media researcher are preparing her to be a key person for media literacy in the future. She's hoping to be a lecturer and an educator in the media studies. She also hopes to help shape the future to be a better world by educating future leaders.
---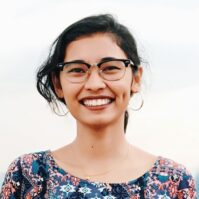 Roshinee Mookaiah
Roshinee is a 24-year-old year Psychology graduate from Kuala Lumpur, Malaysia. She started her career as a behavioural therapist for individuals with autism but is now working as a recruiter at a non-profit organisation called Teach For Malaysia. Coming from an underprivileged background herself, she recognizes the power of education in transforming lives. She is therefore committed to recruiting more passionate young Malaysians to become teachers in high-need schools and subsequently be part of TFM's movement to end education inequity in Malaysia. Outside the education sector, Roshinee is also a part-time theatre actor, freelance writer, and a self-confessed catlady. In addition to that, she is also interested in conversations about race, representation and social justice. She hopes to better champion the Malaysian Indian community in the future.
---
Myanmar
---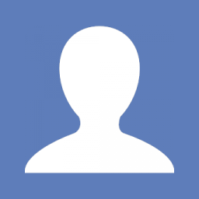 Htoi Awng Maran
---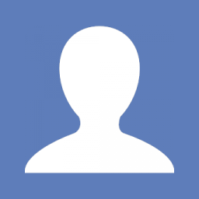 May Sanda Soe
---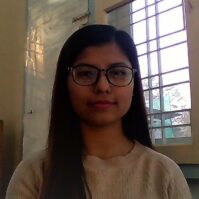 Me Zin Anawar
Me Zin is living in Myitkyina, Kachin State. She got Bachelor of Art in English from Myitkyina University. She received her diploma in Business Management and diploma in Human Resources Management. She is working as a Human Resources Officer in Kachin Project of Medecins Du Monde (Doctors of the World). MdM is a France-based INGO. They work for drug users and their partners in Kachin State. Before that, she worked in Medecins Sants Frontiers (Doctors Without Borders) as a Secretary in Kachin Project as well. She hopes to share all the things she known to other participants of these workshop. She also would like to learn many things from other brothers & sisters from ASEAN. She would like to establish NGO for women and children's education in her country and she also would like to stand as a professional Human Resources Manager in the future.
---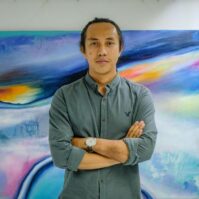 Soe Ko Ko
Soe Ko Ko aka Kyaw Soe is a freelance multimedia journalist and media trainer. He has worked at TV channel Democratic Voice of Burma, one of the most important and independent media outlets in Myanmar, which has recently entered into the country after some years of reporting from abroad, due to the dictatorship which has stifled the freedom of expression and many other human activities in Myanmar for almost five decades and he mainly covered Southern Part of Myanmar for ten years. He is teaching journalism courses full or part-time. Soe Ko Ko has a BA in International Relationship from the University of East, Yangon. One of his most profound beliefs is that journalists, like each other and every individual, can only grow by sharing experiences and by fueling informed debates. This is the reason why he looks forward to taking part in this YSEALI Regional Workshop: Media Literacy. He is ready to share his experience as a journalist and media trainer in a difficult political environment.
It's very important that people including journalists to understand Media Literacy. As 2020 general elections is closer, it's pretty sure that political organizations will use social media for spreading propaganda and may be fake news. Not to drive back to Myanmar's democracy transition, he would like to urge people who understand media literacy to do more training of media literacy as fast and many as possible. And he will do so. This is one of his future plan.
---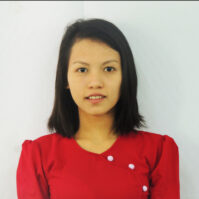 Su Han Moh Aung
She was born in a small village where people do not value education but tend to believe girls do not need to study. Fortunately, her parents are different and always encourage her and her siblings to study hard for better opportunities. During her childhood years, a teacher taught her that education is a driving force and key to success. She completely agrees with late South African President Nelson Mandela, who had once said "Education is the most powerful weapon which you can use to change the world." Her personal desire to gain knowledge has also influenced her attitude towards education. She is now teaching hundreds of students at the Myanmar Education Project (myME) and fulfilling her lifelong dream of becoming an agent of change in education. Every day, she sees that education does indeed have a dramatic and life-altering effect on people while empowering them to recognize their own identity and potential. That's precisely what she wants to do – to become an excellent educator for her people. That's why, she always needs to continue learning for her further education and she graduated Bachelor of Art (B.A History) at Pakokku University. Recently, she just finished Post Graduate Diploma in Creative Writing and Editing in Yangon University in 2018. She loves learning new things as she wants to be ready to support to her community where needed.
---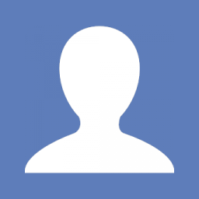 Sandar Soe
---
Philippines
---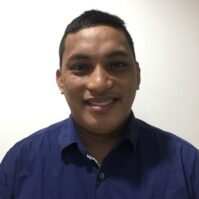 Joey Alvarez Capisonda
Joey Capisonda is a TV producer, writer, and a college instructor in the Philippines.
He is an executive producer at the People's Television Network, the government's TV network wherein he supervises the production of its public service program, the Damayan Ngayon (Helping Today) which provides humanitarian support to the marginalized sector of the society. He also produces its morning news-magazine show which discusses current issues of national interest.
In 2017 he started teaching communication courses at the Pamantasan ng Lungsod ng Marikina, a community college in Marikina City.
He was able to finish college through the help of Pathways to Higher Education and Charity First Foundation, Inc. Both organizations provide its scholars with financial support, leadership and life skills tools that will help them excel in the academe and eventually become leaders of this country.
He graduated magna cum laude with a degree in Broadcast Communication at the Polytechnic University of the Philippines in 2012. Currently, he is taking his master's degree in Media Studies at the University of the Philippines Diliman.
He hopes to share every learning that he will acquire through this workshop to his students, workmates, and viewers of his TV programs as he believes that by disseminating these pieces of essential information would not only help them become media literate but also empower them to become more participative in building a better society.
---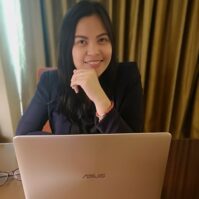 Kathy Mar S. Mateo
Kathy works as a communication officer for a government agency based in Davao City, Mindanao, Philippines.
---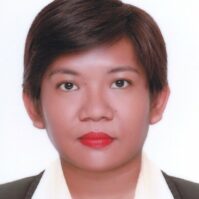 Kristine Marie V. Torres
---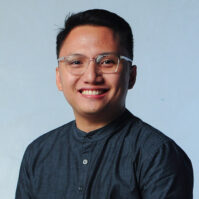 Marlon Julian Santos Nombrado
Marlon is a Filipino educator and media literacy advocate. By profession, he is a part-time high school teacher handling Research and MIL (Media and Information Literacy) courses. He is a journalism graduate from the University of the Philippines where he is also currently taking a master's degree in Communication. When he is not teaching or studying, he is busy running Out of The Box Media Literacy Initiative (OOTB), an advocacy organization promoting media literacy education in the Philippines. After founding it in 2014 with his college friends, OOTB has reached thousands of Filipino students and teachers through its programs, campaigns, and resources.
In the future, Marlon looks to conduct researches on media literacy, produce films and publications, impact policies, teach in the university, and eventually be a recognized expert in the field of media literacy. He hopes to do this in the next five years while travelling the world and meeting new friends.
---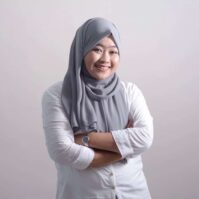 Sittie Raisah Mamintal Timosa
Raisah was born and raised in the province of Maguindanao. Life was not easy back then. Growing up, she had a hard time pursuing her studies. Living in a small province, there was a scarce in opportunity and people had to settle on what is available within reach. When she finished high school her mother told her to not proceed to college. Apparently, Rai was determined and she believed that education will save her family from their long-experienced poverty. Since then, she felt the urge to do something for students like her and it made her more passionate to go along.
In 2014, she finally got her degree. She started teaching as well. She has been working to advocate for free education and children's welfare and she's into a lot of volunteering. She is a photography enthusiast and a part of the Qapwa (Filipino Muslim Stories) Team that aims to eradicate Muslim stereotypes. She's on her way to acquire her master's degree and hopefully to making an ever-lasting impact in her community.
For Rai, it is essential to have substantial knowledge in Media Literacy in order to educate the young ones. She personally believes that education plays a vital role in peacebuilding. Having no background in journalism, to learn new things is beyond amazing for her. She looks forward to implement a small project that will educate the youth in Media Literacy with a focus in combatting fake news. As Filipinos tend to believe news coming from uncertain sources. She is absolutely eager to have an excellent mentorship from her colleagues in the workshop.
---
Singapore
---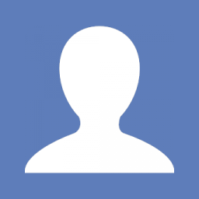 Alex Lew Wen Jie
---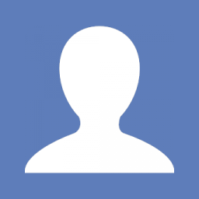 Andrea Chan Wen-Lynn
Andrea is an accountant by profession at PricewaterhouseCoopers (PwC) Singapore. She is also the owner of She Roams the World, a website founded about 7 years ago. Originally a food and travel website, it is currently a work-in-progress as she brainstorms ways to re-purpose She Roams the World as a platform to raise social awareness and drive social change.
Being seconded to a global technology company for the past year, and seeing the responsibility it has to its online citizens, has sparked her interest in the importance (and also dangers) of media in society. In particular, she is interested in the impact of Media Literacy on Mental Health and the role of Media Literacy in Citizen Journalism.
---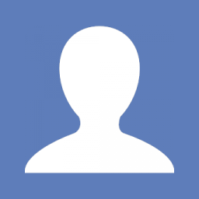 Liyana Amani bte Shaifol Bahri
Liyana lives to "make a scene"; a producer-writer by profession, Liyana has worked on a variety of media content across a range of genres, from current affairs to tv commercials. Her works have televised across the region through channels such as BBC StoryWorks, Channel News Asia, and many other media platforms. With a passion for social issues and storytelling, she's constantly traveling, in search of inspiration from people and cultures of untold backgrounds. As a Fine Arts graduate who dabbled into Broadcast Media by accident, Liyana honed a strong interest in propounding change through the means of documentaries, fictional narrative, and mixed media. With an effort of turning her goals into reality, through this workshop, Liyana hopes to garner as much knowledge about the regional media landscape and build a network with practitioners-enthusiasts alike, hearing their stories so that one can learn from each other. Liyana believes that change is no longer the only constant. With the advancement of digital innovation and technology, communication rises to par, hence making the focus of this programme a meaningful platform for collaboration amongst media natives.
---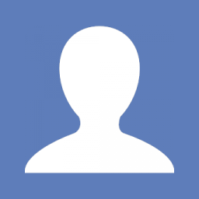 Ng Keng Gene
Keng Gene was born in Singapore and has lived there ever since. He is currently a political science major at the National University of Singapore, and is in his junior year. Over the past three years, he has interned with two newspapers on three occasions, where he had stints on the news, sports and digital desks. These experiences have made him keenly aware of the challenges faced by the news industry today, especially as it tries to keep pace with rapid technological change and new channels for delivering news. He finds that media literacy is essential, especially amongst children, in successfully navigating the current media landscape. Upon graduating in 2020, Keng Gene will be a journalist with a local newspaper.
He signed up for the workshop hoping to hear more about the impact of social media on politics and governance in the region, especially through the eyes of other participants. He also hopes to learn strategies for media literacy education, and looks forward to hearing from those who have already had such experiences in their communities.
---
Thailand
---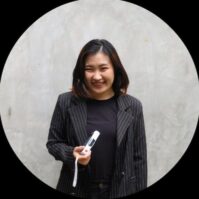 Niratchaphorn Duangmoon
She is Niratchaphorn Duangmoon. Her friend called her "Dear" which is her nickname. She grew up in the Lower Northern province of Thailand. She lives in Chiang Mai, the upper northern province of Thailand. She was born in 1994 and she is 24 years old. Dear graduated with a Bachelor of Arts (BA) degree from Naresuan University in 2017. She interested in learning new things, making the new friend, traveling and joining an interesting activity. On the other hands, she quite shy when meeting up a new friend for the first time but she'd loved to know a new friend. She has worked as "Content Editor" in a media company for almost two years. Working in a media company makes her more active and seek knowledge. Dear participates in the workshop because she knows that media literacy is not only related to her career but it also related to her daily life. Besides she would like to learn and understand more about "Media Literacy" and open her world to be wider. Hence, she decided to join the workshop.
---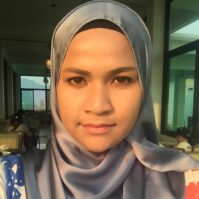 Nurham Hahsa
Nurham is a Muslim woman living in the southernmost of Thailand called Pattani. She lives with her family and she just get married few weeks ago. She now is working as international affair officer at Faculty of Education, Prince of Songkla University, Pattani Campus, Thailand. She has interesting living experiences in Malaysia for six years and the United States for five months. She likes to explore the world and learn about the variety of cultures. She is eagerly to participate in the regional workshop in Yangon as it will be a useful experience for her occupation. Besides, she will gain more new friends from different countries. What she hopes so much from the workshop is how to make effective media to promote her faculty. Particularly, how to make the students are interested to apply for scholarship and further their studies for bachelor, master or doctoral degree  at the faculty. She is waiting to see new things at the new place  in order to make new progress at her happy workplace.
---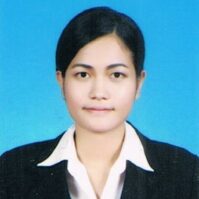 Thidaporn Jumpakate
Thidaporn Jumpakate is a lecturer at Faculty of Liberal Arts, Rajamangala University of Technology Phra Nakhon, Thailand. She received her Master of Arts in Applied Linguistics for English Language Teaching from King Mongkut's University of Technology Thonburi, Thailand. Her research interests include scaffolding, internationalization, and English language teaching.
---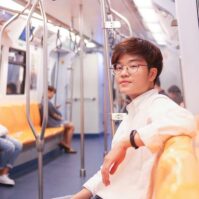 Thitiporn Bovonkitpaiboon
Mook Thitiporn is a 26-year-old girl, a nerdy activist who loves to talk in academic ways including science, marketing, investment, sociology, and psychology. Mook has a passion to use her knowledge to contribute something to make society better, especially in the education field because the new generation will surely become the next leaders. Mook also spends her spare time with various non-profit organization activities.
Since she was in high school, Mook joined more than 50 activities until it became a part of her life. Recently, she has been working on a project with TEDxBangkok named TED for Youth which empowers students to share their different perspectives via school and stage in Bangkok by being a communication strategist.
Sounds like she does many activities, but has no job, right? Actually, Mook is a Senior Strategic Planner working in an advertising agency.
---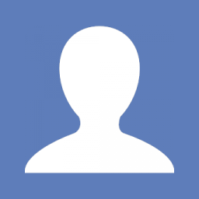 Visaurt Sankam
Visarut Sankham, the master degree student in social science, while also working as an independent visual storyteller. He is conducting the research on the Wa, the minority group living in Thailand that heavily stigmatized by Thai media. He started to question his own role after working for years in media especially on the photographic industry, the question raised on the notion of truth as photography seem to take for granted.
The man idea that leading him to join this workshop is the phenomenon in social media or the new media in Thailand that filled with fears on criticizing monarch and Islamophobia that was spread through this new media.
---
Timor Leste
---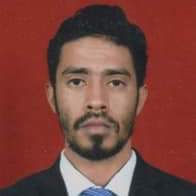 Amito Araujo
---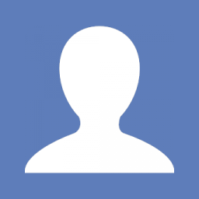 Feliciano de Jesus Goncalves Aleixo
---
Vietnam
---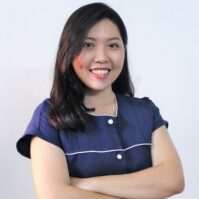 Diep Pham Phuong Uyen
Uyen is a new graduate having almost 5-year experience in Journalism for four newspapers. She has focused on Education and Youth for 2 years before switching to covering on International Affairs for Media sector of Thanh Nien newspapers in 2016. She was a Singapore-based correspondent in 2016 for 5 months and Malaysia-based correspondent from 2017 to 2018 working on many high-profile events including the US election in 2016, Trump – Kim summit, Kim Jong-nam murder case, and others.
Additionally, she has strong exposure on international exchange programs. In 2015, she was a national-level participant of JENESYS 2.0 on Media 8th batch visiting Japan and learning about media/journalism. In 2016, she was the first and only Vietnam National University – Ho Chi Minh city student nominated for and participated in AUN – ACTS at National University of Singapore (NUS). Her major is New Media and minor is Southeast Asian Studies. Uyen is now an ambassador for the programme, to promote the programme and to mentor for desired students.
Currently, she is a vlogger about International Exchange programme and internship on Youtube. The most popular video is "Working in Malaysia 101" which has reached to more than 9.000 audiences. She is also managing Facebook page named Global opportunities for Vietnamese sharing international opportunities, especially in ASEAN.
---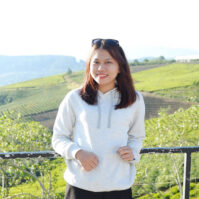 Nguyen Thi Thanh Phuong
Phuong is 23 years old. She  was born and grown up in Danang city which considered as the Vietnam's most livable city.
She is working as a Digital Marketer with 2-year experience in this field. She loves her work and is looking to advance her career. She planning to apply for a higher education next year that can equip her with specialized skills and knowledge to achieve her career goals in the progressive digital space.
Besides a professional career, she also is a good example of the young Vietnamese trying to become a qualified global citizen with an international perspective participating in some international conferences and cultural exchange activities to nurture the necessary soft skills, self-confidence, and leadership potentials.
This program "YSEALI Regional Workshop: Media Literacy" is a massive match for her to raise and discuss innovative solutions to cope with those currently pressing problems. With her experience about digital media, and wide range social projects she has taken part in, she wishes to be a proactive learner, a supportive teammate and an enthusiastic contributor for all the sessions.
---
Nguyen Thi Thanh Thuy
Ms Thuy comes from Vietnam. She's  a senior student in Ho Chi Minh city University of Education, her major professional are public relations and commerce in Russian and English. At the moment, she is also an intern of public affair section at US consulate general in HCMC. She has 2 year experience as an English teacher and teaching assistant for Gela Education.Currently, she is a member and coordinator of a non-profit organization called iAA (International Alumni Association). She helped running a program called "International Friendship Day" in Vietnam with the mission of sharing information, connecting other young leaders and building a network between students and alumni from around the world . She makes good use of media to help iAA open an iAN International Friendship Day in Ho Chi Minh city with projects: iAN corners, iAN hipfest, iAN cuisine, iAN fair. She strongly believes that media literacy is a new literacy in the 21st century. It should be a part in Vietnamese curriculum to help children see and experience media effectively and responsibly and avoid any consequences of social network abuse. Next, she want to create equal access to not only media technologies but to the critical media literacy education that empower citizens, foster critical thinking skills, cross-cultural empathy and a more engaged citizenship. Being a more critical media consumer as well an active responsible producer are vital survival skills in our digital age.
---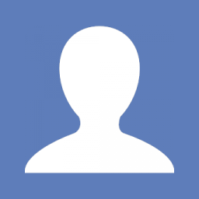 Nguyen Thi Thu
---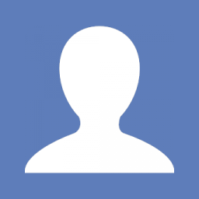 Nguyen Thi Van Anh
---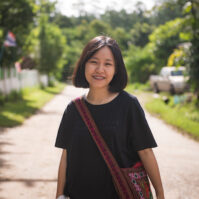 Trang Minh Hoang
Trang graduated from Diplomatic Academy of Vietnam, majored in International Communication. After graduation, she worked as a Communication officer for Live & Learn for Environment and Community – a local NGO and branch of Live & Learn Network. Her work was to influence people's minds and behaviors' on sustainable development through social media and other communication tools and channels. It was a chapter where her education and work crafted her current identities and nurtured her tremendous love for the environment.
In 2018, she moved to Chiang Mai, Thailand and traveled around the country to learn about Earthrights with communities and grassroots in the region, NGOs, and academics. For now, she is back to Vietnam and about to take on a new job combating ocean plastics where knowledge on media can definitely be applied.
Coming to the workshop, she wishes to learn more about the media literacy on environmental issues, communication for social change and other topics in the realm. She loves to meet up with experts and peers, to listen to their stories, and learn from all of them.
---