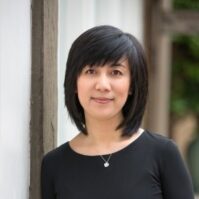 Enya Hu is the chief operating officer (COO) of Zendure USA Inc and one of VIA Programs' guest speakers. Zendure is a premium charging brand established in Palo Alto. Before she joined Zendure as its COO, Enya was the COO of Eques Inc, a smart hardware startup in Silicon Valley. 
A little over two years, a tragedy happened to Enya's family. Her husband Jason had a major stroke and was put into Stanford Hospital ICU three times. His life was saved but he became half-body paralyzed and was put in a care facility ever since. 
"It was very hard to go through. To some extent, facing family member's hemiparesis is even worse than accepting a sudden death."
What made her situation worse was, the company Enya was running at that time, Eques US, was like a sinking boat. Back then Eques was under the competition of Ring the smart doorbell company. In early 2018, Ring was purchased by Amazon. They instantly reduced the prices on some of the smart doorbell models. This was the end of story for Eques business in the US market.
"As a captain of the boat, you are not supposed to leave the boat until the last minute," Enya said. "But I was totally defeated. I could not even smile. I started to have short memory issues. And it was not the worst. The worst was when my daughter was diagnosed with 'unexplained social anxiety disorder'."
A sick man. An unhappy kid. A sinking company.
"I then realized that I could not let myself sink any further. As a mother, I had no choice but to pick up the battle. Through this, I discovered a big secret," Enya added cheerfully. "A secret that can help anyone down the paths. That is, we ALL have free wills!" 
"Free will is that, when you are facing difficulties, you have a choice to stay miserable, but you also HAVE a choice to maintain your joy and walk in faith." Ever since, she came back to her positive attitude. "I want to be a good role model  for my daughter."
" When Zendure offered me flex working schedule, I thought this was perfect for me. I know a lot of people work for making money. But I work for fun. Yes! Work actually makes me happy. When I am happy, my daughter is happy too. By the way, she was 'graduated' from her therapy class and now she is a perfect normal kid."
When asked how she balances her work and life when the challenges are still there, she said, " I used to be a firefighter in all my previous jobs. I was probably the busiest person among teams. But now because my whole family is depending on me, I have to be very careful not to over use my body."
"#1, Build up a super strong team. #2, Only focus on the most important things. #3, Be relaxed at all times. These worked! Since I joined Zendure starting from January, the business was able to achieve 300% YOY so far." 
"Near 99% of startups failed in 5 years. Then why we are still doing it? I want to tell VIA students what entrepreneurship is all about. Entrepreneurship is about not walking on the ordinary paths on where people walk. Through the journey you see more beautiful things."
When asked what is the next for her, she said, "I wish Zendure a great success. If I can ever gain anything though Zendure's success, I will give all back to the society."