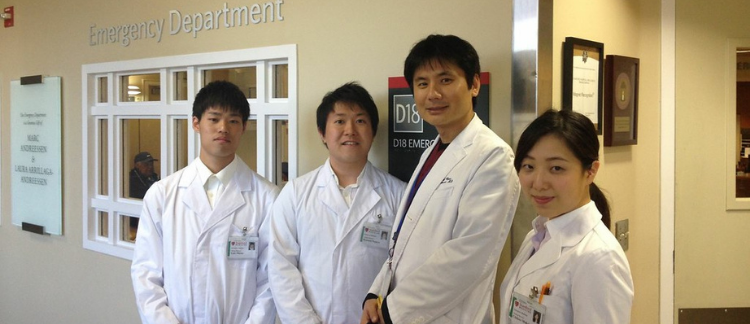 Overview
Program Dates: Aug 2020. Exact Program Dates: TBD
Open to: University students from Asia studying in a health-related field (pre-med, pharmacy, nursing, public health, etc)
Location: Virtual
Application Deadline: Summer program application will open in April
Over the course of 7 days, the Exploring Health Care (EHC) online program brings together 12-20 students from medical universities in Asia to explore a wide variety of health care topics, from organ transplantation and palliative care to public health and medical education. The current COVID-19 pandemic will be used as a lens to examine its effects on health, the health care system, and social challenges more broadly. As participants reflect on their own career goals as future health care professionals, they will receive mentorship from peers and health care experts in the US from diverse backgrounds.
Information Session Recording
Details
EHC was initially started in collaboration with Tokyo Women's Medical and Tokyo Medical Universities in 1996. Over the past 25 years, VIA has brought over 700 university students from Asia studying in various health care fields to Silicon Valley to explore issues related to culture, society, diversity, and innovation in the context of health care. COVID-19 is an opportunity for aspiring health care professionals to connect and explore these very relevant topics in a new, innovative virtual format.

Click on the section headings or ( + ) circles below to view more content:
Virtual Program (August 2021)
$900 USD program participation fee includes:
15+ hours of live online presentations, discussions, and interactive workshops
Mentorship from peers and a variety of health care experts
Access to an online learning platform with additional information, resources, and opportunities to connect with peers
By joining the virtual program, you won't have to worry about travel time and expenses, and you will still get:
Opportunities to discuss a variety of health care topics, related social issues, and current events
To build friendships across cultures
To expand your English vocabulary and communication skills in the context of health care and social issues
To join an international network of VIA health care programs alumni
Participants who join all online sessions and group discussions, and complete all activities on the online platform will receive a certificate of completion
Compare to In-Person Program Costs (August 2020)
The $4,100 USD program fee included:

Accommodations
Transportation
Most scheduled activities
Welcome lunch & farewell dinner
24-hour on-site staff support

Additional costs not included in the program fee:

Airfare (approx. $2,000 USD)
Travel insurance (approx. $25 USD)
Daily meals (approx. $400 USD)
Optional activities (approx. $200 USD)
Personal shopping expenses ($100+ USD)
Vaccinations (for shadowing students only)

Total cost to attend an in-person program: $6,800+
"I was most satisfied with the shadowing experience I had at Arbor Free Clinic. The student doctors and undergraduates were engaged in the clinical setting in a way much more than I expected. Their knowledge, their researching skills, their communication skills, their patient comforting skills, the coordination between each of the clinical members involved…everything was eye-opening."  – EHC 2015 Participant
"I can't forget the wonderful and diverse friends I made during this program. All of them were confident in representing their beliefs and opinions, and I was able to have productive conversations on both medical and personal topics. They really got me motivated in creating original opinions and I realized the importance of believing in what I believe." –  EHC 2015 Participant
"The thing that I enjoyed most about this program was conversations. This includes not only Q&As with those who have us lectures, but also in daily conversations with peers, directors and coordinators! I was able to find someone who shares my interests for the future with me and that has unique and respectable traits. Thank you for great, life-inspiring conversations!" – EHC 2015 Participant
Application Timeline
April through June: Application period

July: Program preparation

August: Program begins
Sample Program Schedule
The following schedule is tentative. All-cohort online sessions will be limited to 2-3 hours per day (likely starting at 9 AM, with breaks) to optimize participant engagement. Outside of the all-cohort sessions, participants will complete individual and group activities.
Pre-Program Orientation: An orientation session will take place a few weeks before the program, to provide an overview of the course and introduction to the online platform (it will also be recorded).
All-Cohort Online Session

Individual & Small Group Activities

Day 1: Medical Education

Panel discussion with EHC alumni and US medical students on the effects of COVID-19 on medical education in the US and Asia

Reflections & discussions in small groups

Day 2: Delivery of and Access to Health Care

Panel discussion with health care professionals on how they are responding to COVID and adapting delivery of health care
Panel discussion on organ transplantation with organ recipients and donor family members

Reflections & discussions in small groups

Day 3: Mental Health & Wellbeing

Interactive workshop on the impacts of COVID on well being and mental health
Panel discussion on palliative care with a variety of health care professionals

Reflections & discussions in coordinator groups
In preparation for Day 4, watch and reflect on Nations United, a UN film that describes the Global Goals for Sustainable Development (SDGs) in the context of COVID-19

Day 4: Health Disparities & Complex Social Challenges

Interactive workshop on how COVID is connected to complex social challenges

Reflections & discussions in coordinator groups
In preparation for Day 5, search the web for a variety of headlines related to COVID

Day 5: The Role of Media and Differing Cultural Values in Health Care

Interactive discussion on the role of the media and differing cultural values in health care and specifically in responding to COVID

Reflections & discussions in small groups

Day 6: The Future of Health Care

Interactive discussion on the future of health care, post-COVID
Breakout groups to work on final presentations

Reflections & discussions in coordinator groups
Prepare for group presentation

Day 7: Group Presentations & Synthesis

Group presentations
Reflection and synthesis activities
Virtual graduation and celebration

Final reflection in coordinator groups
Individual end-of-program reflection
Program evaluation
Minimum Participation Requirements
In order to join this program and be able to participate fully, you will need:
Reliable access to the internet
A computer or mobile device with a camera and microphone, or headphones with a microphone
Ability to use the Zoom video call application
Ability to join all online sessions and group discussions
Ability to complete all required activities on the online platform
Application Process
To see if this program is a good match, we want to get to know you, your interests, experiences, and motivation for joining the program. The application includes 3 sections, to be completed in English:
Section 1: Personal, University, and Contact Information
Section 2: Short Answer Responses

Why do you want to participate in the EHC program? What do you hope to learn or achieve? What do you hope to contribute?
Describe 1-2 health care topics or issues you are interested in, and why they interest you. Possible topics include, but are not limited to: organ transplantation, free clinics for underserved communities, geriatrics, the healthcare system (including insurance), the medical education system, etc.
Why did you choose to become a health care professional? How do you hope this program will impact your studies and career?
Help us get to know you better by writing 1-2 paragraphs about your hobbies, your character, and your plans after graduation

Next Steps – ​Interview: The final step will be a 10-15 minute interview on Zoom with the Program Director. If your application is selected, the program director will follow up with you to confirm the interview time.
Photos