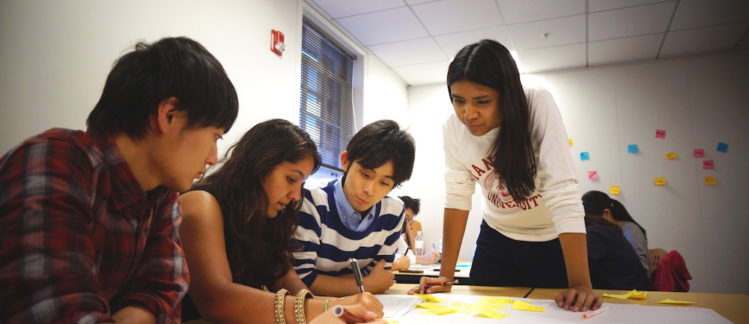 Overview
Program Dates: March 21-30, 2019
Open to: University students (18 and older) from Japan (Japanese citizenship not required)
Location: Stanford, California
Application Deadline: January 21, 2019 (Japan Time)
The Design-thinking for Social Innovation (DSI) Program brings together 30 university students from Japan and Stanford to practice the innovative process of design-thinking for social good. In this 10-day program, you will dive deep into the process of creating innovative solutions and experience working together across cultures as your team applies design-thinking to support an education-focused partner organization.
Details
If you want to see what it's really like to work intensively a US-Japan team and how to use the design-thinking process in real life, this is the program for you!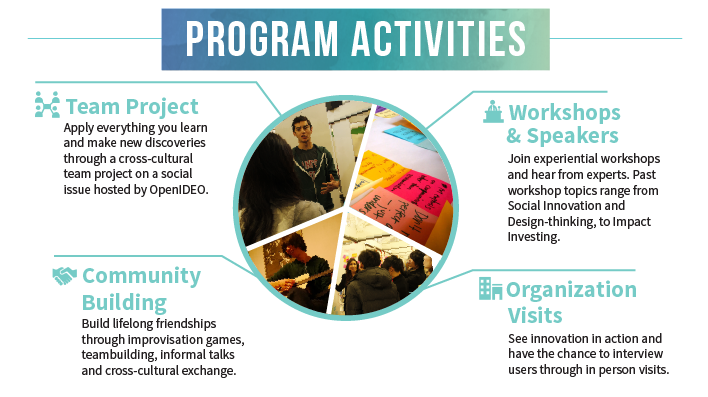 Coordinator Team
---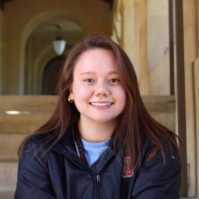 Cristina Ammon & Stefanie Ly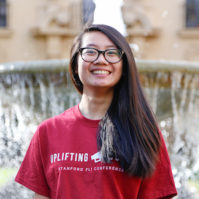 Stanford Student Hosts
Hi everyone! We are Cristina and Stefanie, third- and fourth-year students at Stanford majoring in urban studies and psychology, respectively. In past years, we were both DSI participants and learned how to apply design-thinking to solve problems. Our experiences introduced us to new lifelong friends from around Asia and gave us new skills to use in daily life. We are so excited to welcome new participants to DSI and facilitate a wholesome and rewarding program for the next cohort as we explore design-thinking and sustainability together!
---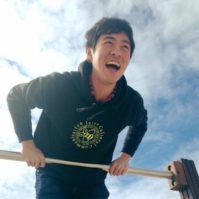 Takuya Higuchi, Japan Coordinator
Hi, I'm Takuya Higuchi, a coordinator for DSI program 2019. I'm majoring in intercultural communication in Rikkyo University. I am currently thinking of going to a graduate school to study more about linguistics and English education. I went to Canada, Spain, and the USA as study abroad; there I learned the importance of cross cultural communication. I also value innovation and creativity since those are what artificial intelligence cannot do and cannot obtain respectively. Thinking of the necessities of sharing personal stories,  I became an organizer of TEDxRikkyoU in 2018 in order to create something new in my university. I am here to help you deal with cross cultural difficulties, to help you think profoundly, and to support your English. My personal connection to VIA is that I participated in VIA, Rikkyo and Stanford project in Rikuzentakata, a city which was destroyed by the Great East Japan Earthquake both as a participant and coordinator. As a DSI coordinator, I will make the best effort to create an environment in which everyone can participate proactively and in which everyone can learn greatly.
---
Cost
Program fee includes:

Accommodation
Transportation for program activities
Most scheduled activities
Arrival lunch
Graduation dinner
Regular Rate: $3100 USD
VIA Alumni Rate: $2100 USD

Costs NOT included in the program fee:

Airfare
Travel insurance
Daily meals
Optional activities
Personal shopping expenses
Scholarships
Kyoto University – John Mung Scholarship:
If you are applying from Kyoto University, you have an opportunity to receive a scholarship to join VIA's programs through the John Mung Program. After you pass the selection process by Kyoto University, please submit your VIA application.
Enlight Fellowship:
Successful applicants for this fellowship will receive a $500-1,500 award towards the program tuition. In order to apply for the fellowship, you must submit a video essay (instead of typed essays) in your application. To learn more about the Enlight Fellowship requirements, please click here.
Refer a Friend Award:
We'd love to know if you have friends or siblings/relatives who you think would be a great match for the DSI program. If you and someone you recommend is accepted to the program, you will receive a $100 award that will be applied to your program fee.
Note: Awards cannot be combined – successful applicants will receive either a scholarship, a fellowship or an award, but cannot receive more than one.
"It was such a great experience being able to meet energetic and interesting people from Japan and stanford! I felt from this program will keep me motivated for sure! EVERYDAY was so enriched that we couldn't have a reflection day everyday, but I will do it soon! These days were definitely worth it! Thank you!" DSI 2016 participant
"Since the program was a concentrated week of using English, I was happy to develop my English skills formally and informally. I would like to continue practicing more design thinking to be more even confident in using it." DSI 2015 participant
"Unlike the Japanese format of holding workshops and events, I like how this program was more flexible, casual and liberal. Everything was very inspiring! It's been a life changing experience ;)" DSI 2016 participant
General Application Timeline
Application Period

July: Applications open
November: Information sessions in Japan
December 2: Round 1 deadline
January 21: Round 2 deadline

Application Review

Mid December: Round 1 interviews
Late December: Successful applicants notified of acceptance
Mid January: Round 2 interviews
Late-January: Successful applicants notified of acceptance
Program Preparations*
Late January: Participants begin pre-travel checklist (payment, agreement form deadline; start visa application process, if applicable)
February: Complete pre-departure assignments and activities
*Preparation activities and deadlines may be added/modified any time before the program
Program Schedule
This is a sample program schedule from 2016.
In the application, you can share about yourself [in English] in 3 sections:
Background & Contact Information: Tell us some basics and how to reach you.
Deeper Questions: Share your story & show your personality through short essays OR video*
If you're applying for the Enlight scholarship, you MUST make a video [<5min]. Click here for video tips.

Please briefly describe your experience with design thinking, and tell us why you want to participate in a program focusing on design thinking.
During this program, you will work directly with Stanford students on design thinking projects. Through this cross-cultural exchange experience, what do you hope to contribute, and what do you hope to gain from collaborating with Stanford students?
Please tell us a little about your hobbies or passions, your character, and your plans for the future.

Interview Time Preference: The next step will be a 10-15 minute phone/skype interview with the Program Director a few days after the program deadline.
Photos