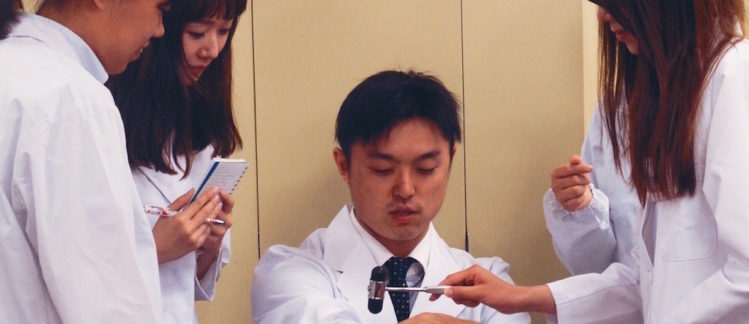 Overview
Program Dates: March 18-30, 2017 (US time)
Open to: Medical students from Japan interested in comparative health care
Location: San Francisco & Stanford University, California
Application Deadline: December 30, 2016 (Japan Time)
The Exploring Health Care (EHC) Program connects students from Japanese medical universities with their peers in the U.S. to improve their ability to serve future patients by discovering the best aspects of healthcare in Asia and the United States. Participants will view health care and medicine through the eyes of students, patients, doctors, and researchers. Students from Stanford University and UCSF School of Medicine will join the program as Global Health Fellows and provide mentorship, lead activities and conduct lessons on a variety of healthcare topics.
Details

The EHC program is offered in two tracks:
Novice Track (1st – 2nd Year Students): emphasizes the development of foundational clinical knowledge and skills that are useful in a variety of medical settings through hands-on simulation and beginning problem-based learning (PBL) activities.
Advanced Track (3rd – 6th Year Students): provides opportunities to deepen clinical knowledge through physician shadowing and advanced problem-based learning (PBL) activities.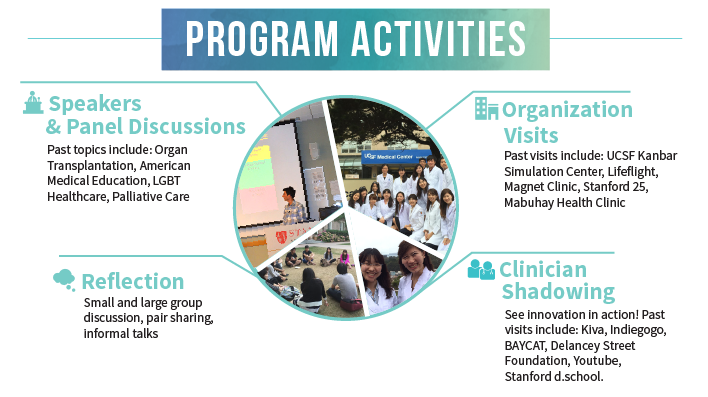 EHC was initially started by Tokyo Women's Medical and Tokyo Medical Universities in 1996 and has been offered annually since then by VIA, a non-profit organization founded at Stanford in 1963.
Program Costs
The program fee includes:

Accommodations
Transportation
Most scheduled activities
Welcome lunch & farewell dinner

Total Cost: $3,700

Costs NOT included in the program fee:

Airfare
Travel insurance
Most meals
Optional activities
Personal shopping expenses
Vaccinations (advanced track only)
Accommodations
Participants will stay at the Good Hotel in the heart of downtown San Francisco.
"I was most satisfied with the shadowing experience I had at Arbor Free Clinic. The student doctors and undergraduates were engaged in the clinical setting in a way much more than I expected. Their knowledge, their researching skills, their communication skills, their patient comforting skills, the coordination between each of the clinical members involved…everything was eye-opening."  – EHC 2015 Participant
"I can't forget the wonderful and diverse friends I made during this program. All of them were confident in representing their beliefs and opinions, and I was able to have productive conversations on both medical and personal topics. They really got me motivated in creating original opinions and I realized the importance of believing in what I believe." –  EHC 2015 Participant
"The thing that I enjoyed most about this program was conversations. This includes not only Q&As with those who have us lectures, but also in daily conversations with peers, directors and coordinators! I was able to find someone who shares my interests for the future with me and that has unique and respectable traits. Thank you for great, life-inspiring conversations!" – EHC 2015 Participant
Application Period
Early October: Applications open
November: Information sessions and workshops in Japan
December 30: Application deadline
Application Review
Late December – Early January, 2017: Review online applications
January 9-14: Skype interviews
January 20: Successful applicants notified of acceptance
Program Preparations*
January 23: Participants begin pre-travel checklist
January 29: Payment, agreement form deadline
February 12: Complete visa or ESTA application to travel to the US
Late February: Pre-departure orientation in Japan
March 4: Submit immunization documents (advanced track only)
*Preparation activities and deadlines may be added/modified any time before the program
Application Process
To see if this program is a good match, we want to know get to know you: your interests, experiences, and motivation for joining the program. The application includes 3 sections, to be completed in English:
Section 1: Personal, University, and Contact Information
Section 2: Short Answer Responses

Why do you want to participate in the EHC program? What do you hope to learn or achieve?
Describe 1-2 health care topics or issues you are interested in, and why they interest you. Possible topics include, but are not limited to: organ transplantation, free clinics for underserved communities, geriatrics, the healthcare system (including insurance), the medical education system, etc.
Why did you choose to become a doctor? How do you hope this program will impact your studies and career?
Help us get to know you better by writing 1-2 paragraphs about your hobbies, your character, and your plans after graduation.

Section 3: Interview Reservation

At the end of the application, you will be asked to reserve an interview time. If your application passes the initial screening, you will participate in a 15 minute Skype or phone interview with the program director following the application deadline. In order to have a bit more time to review and process applications, the interviews are being scheduled for the week of Jan. 9.
Photos