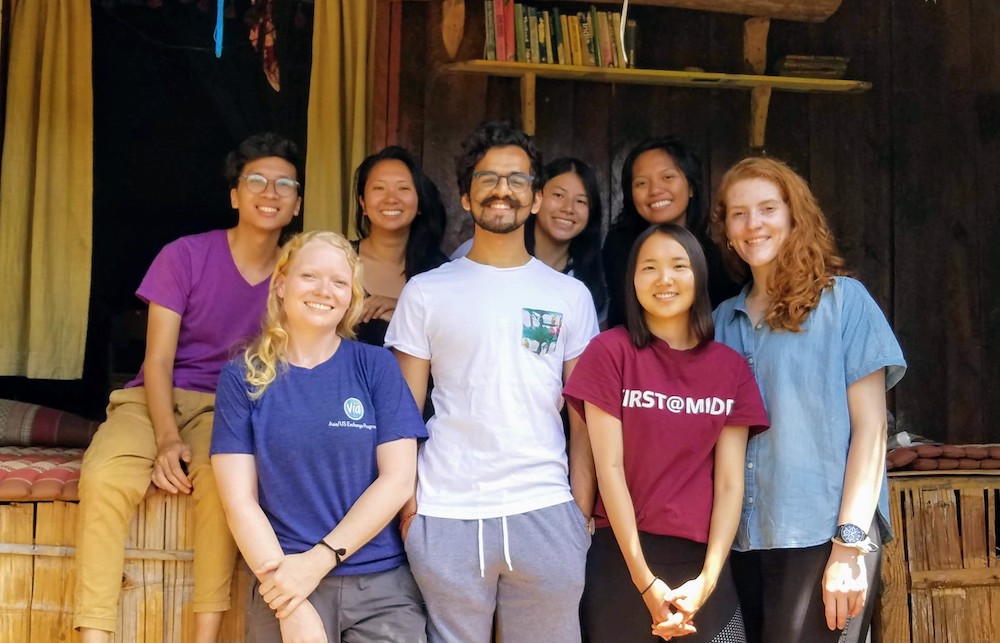 ---

Ibrahim Bharmal
Jember University – Jember, Indonesia
Ibrahim grew up in sunny, sunny Buena Park, California, just ten minutes away from Disneyland. He graduated from Stanford University in 2018, double majoring in Comparative Literature and International Relations with concentrations in human rights, law, and migration. He's passionate about ensuring the rights and safety of immigrant and migrant communities. His studies have taken him all over the world: from refugee camps in Athens, Greece to the boroughs of New York during the summer Muslim bans. More recently, Ibrahim was a law clerk at his county's public defender office, and remotely works with the Allegheny County Department of Human Services in Pittsburgh to ensure more equitable outcomes in their criminal justice system.
Ibrahim is extremely grateful for the abundance of opportunities he has been afforded. He comes from an immigrant family of strong Muslim-Americans, truly raised on the shoulders of giants. He'll miss them dearly – and his adorable nephew Idris in particular. With them cheering him on, he is  ecstatic to be at Jember University. He hopes he can support this new community with compassion and humility and can achieve a more nuanced, global perspective. Here's to a year of adventure and learning!
---

Jamie-Claire Chau
Coins for Change – Hanoi, Vietnam
Jamie-Claire Chau grew up in the big cities of New York and Philadelphia and is ecstatic to spend the coming year in Hanoi, Vietnam, a place gridded with metropolitan familiarities yet colored with its own unique cultural and historical manifestations. Aside from her excitement to participate in VIA's mission and work, she looks forward to immersing herself into Vietnamese life and culture, tastebuds first.
Her studies in Sociology and Anthropology at Messiah College cultivated her concern and commitment to  working in solidarity with communities disparately impacted by structural and cultural injustices. She aims specifically to participate in the revolutionizing of education ecologies globally.  Her upcoming fellowship with Coins4Change will allow her to learn from local leaders and dedicated volunteers about effective strategies for sustainable community empowerment and gender and ethnic equity, with education being a part of those strategies. Her own minority Hoa Vietnamese ethnicity and her single mother upbringing makes the mission of Coins4Change especially meaningful to her, and she is grateful for the chance to pilgrimage through stories and places so close to her own identity.
---

Laura Galang
Universitas Gadjah Mada (UGM) – Yogyakarta, Indonesia
Laura grew up in the Silicon Valley and graduated with a BS in Economics from Loyola Marymount University in Los Angeles in 2019. As a research fellow and research assistant, Laura explored a variety of economic issues during her undergrad, ranging from increasing housing prices in Los Angeles County to bankruptcy law on the national level. Although her formal education was in Economics, Laura developed an interest in environmental sustainability, food security, and international development. Through her work with local community organizations in the greater Los Angeles region and abroad, Laura was exposed to the importance of sustainably-sourced agriculture and the disproportionate negative impact of human consumption on communities of lower socioeconomic status and their surrounding environments. Through VIA, Laura hopes to contribute to positive social change through active global citizenry.
This year, Laura will be placed at UGM Sekolah Vokasi's English department. There, she hopes to help foster confidence in her students about their English-speaking abilities so that they can participate as empowered change-makers within their own local communities and abroad.
---

Carrie Soo Hoo
Inle Heritage Hospitality Vocational Training Center – Inle Lake, Myanmar
Carrie grew up in the deserts of Arizona. She moved to Hawaii to attend the University of Hawaii at Hilo where she obtained baccalaureate degrees in Marine Science, Psychology, and Communications with certificates in Educational Studies and STEM. While in college, she had the opportunity to travel to various countries through the Semester at Sea program and studied abroad in India through the School of International Training (SIT). Through her undergraduate experiences, she developed passions for multi-disciplinary studies, teaching, and travel while gaining the identity of a lifelong learner who yearned to work abroad.
After graduation, Carrie worked in different capacities teaching various age groups in diverse educational settings. Prior to joining VIA, she completed her first year teaching 3rd grade at a small Hawaiian culture, agri-science elementary school where she was recognized as the Hawaii State Teacher Association (HSTA) Teacher of the Year Honoree for her school. As a VIA fellow, Carrie will be working with the Inle Heritage Hospitality Vocational Training Center. She is excited and grateful for this opportunity and hopes to continue to learn and grow as she expands her global community.
---

Hannah Sorenson
Jember University – Jember, Indonesia
Raised in rural Northern Minnesota, Hannah never intended to travel to Asia. After enrolling in a Mandarin Chinese course during her first year of undergraduate study, Hannah's world was cracked wide open. Growing up in a predominantly indigenous community with two siblings on the autism spectrum placed service, change-making, equality, and advocacy to the front of her mind; further study in Chinese, Asian Studies, and Political Science solidified Hannah's desire to affect positive change in the lives of others by working with local leaders to address global issues. As a student at St. Olaf College, Hannah studied in Shanghai and Tokyo, farmed in north-central Japan, and conducted research in Hong Kong and Taiwan. She is particularly passionate about the convergence of punishment, human rights, and development in Asia. Hannah is continually motivated by the humanization of abstract ideas in the complex, intricate lives of everyday people. She is immensely grateful for the opportunity to join the Centre of Human Rights, Human Migration, and Multi-Culturalism in Jember and looks forward to the opportunity to listen closely to the stories and perspectives of the people of Indonesia, share in cross-cultural engagement, and learn from active change-makers.
---

Emily Stephenson
Connect – Yangon, Myanmar
Originally from Lexington, Kentucky, Emily graduated from Centre College in 2015 with a BA in French and minors in Biology and Chemistry. During her third year at Centre, she spent a semester abroad in Strasbourg, France, and subsequently returned to Strasbourg after her semester stay to complete an internship at the IGBMC, an international biomedical institute. During her time abroad, Emily realized how valuable cross-cultural experience could be, so the decision to move to England to complete her Master of Public Health degree seemed like a perfect next step after graduating from Centre in 2015. After completing her Rotary Global Grant Scholarship in the UK, Emily packed her bags and moved to Lusaka, Zambia to complete a behavioral research fellowship at the Centre for Infectious Disease Research in Zambia (CIDRZ). This move challenged her in new ways and affirmed her passion for international development work.
While Emily has loved immersing herself in the field of health-focused social research, she still felt she needed to explore other sides of the development world, particularly education. Emily first joined the Global Community Fellowship in 2017, and is now beginning her third year in Myanmar. She is grateful for the opportunity to work with the next generation of change makers in the unique and diverse city of Yangon.
---

Tanmai Vemulapalli
Pre-Collegiate Program (PCP) – Yangon, Myanmar
Tanmai Vemulapalli grew up in Collegeville, Pennsylvania and graduated with a degree in International Affairs and Anthropology from George Washington University in 2018. While at GW, she grew passionate about migration, transnational issues, storytelling, and cross-cultural communication. Her desire to learn language as a way of engaging with communities led her to study Arabic in university and brought her to Lucknow, India, where she studied Urdu intensively for two summers. Originally born in southern India, Tanmai has sought to learn more about Asia, both personally and academically. While her connection to India will continue to draw her back, she hopes to gain a different perspective, and wider understanding of Asia, through her work in Myanmar. She is continuing her post at PCP for a half year, working with the wonderful students at PCP while learning about Myanmar culture, language, history, and politics.
---

Sophie Wang
KoeKoe Tech – Yangon, Myanmar
Originally hailing from the San Francisco Bay Area, Sophie earned her Bachelor's degree from Princeton University. After graduating, she worked in data at a San Francisco-based health tech startup, where she collaborated with engineers, product managers, and designers to build tools for physicians so that they could assist their patients better. Most recently, she taught for a year in Chiang Mai. There, she focused on supporting her students and learning a new language. Sophie is fascinated with the stories of different people and communities. She is thrilled to have the unique opportunity to meld her interests at Koe Koe Tech, a startup in Yangon.
---

Lulu Zhou
BEAM – Chiang Mai, Thailand
Lulu has spent the first and the second halves of her life in China and the US, and she calls New York City home. She graduated from Middlebury College, where she studied Sociology and Education Studies. As an immigrant, she has always been passionate about giving back to communities through education and migration causes. During college, she was fortunate enough to work with diverse migrant communities in various educational settings and geographical spaces. Her personal, academic, and volunteering experiences have reinforced her passions for social justice, education equity, community engagement, and cross-cultural understanding. While studying in Beijing and volunteering at migrant schools during her junior fall semester, she was inspired to write her senior thesis on China's migrant children education issue. Her China semester helped her gain an insatiable curiosity about Asia's past, present, and future and realize that she wanted to serve in Asia after college.
She is incredibly grateful to join the VIA community and Bridging Educational Access to Migrants (BEAM) in Chiang Mai, where she will support higher education access of diverse students from Myanmar. She loves learning as well as learning how to learn. With no prior experience in Southeast Asia, she is ready to learn from its people. (Photo credit to the wonderful Hannah Sorenson during the end of our VIA orientation.)
---