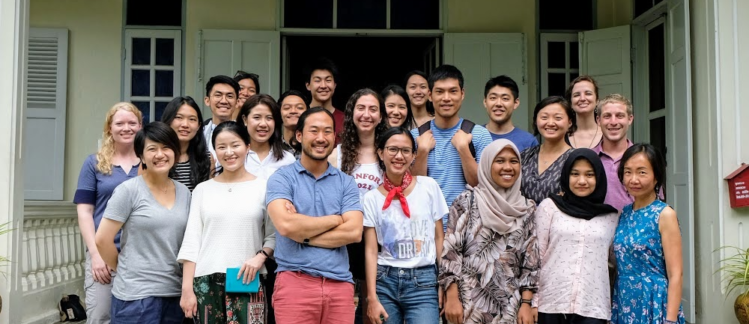 Overview
Program Dates: Spring-Summer 2022 (exact dates TBD)
Open to: Aspiring social impact leaders in the US and Asia (other locations will also be considered)
Location: Online training and local team projects
Application Deadline: Applications for the next cycle will open in late November / early December
If you would like to be notified when the application becomes available, please complete the Accelerator Interest form to be added to our mailing list:
---
About the Program
The Social Impact Leadership Accelerator is a 6-month team-based training and project development course for aspiring social impact leaders who are ready to take their ideas for a better world to the next level. Through real-time interactive training sessions with other teams across Asia and the US, independent team tasks, and individualized coaching, team members learn how to build cohesion and collaborate effectively, identify their target community and project goals, develop impact-driven events, workshops, and programs, and design effective evaluation plans. The Accelerator is intentionally designed to foster a Community of Practice; all members are invited to serve as peer mentors and thought partners for each other as each team develops its own unique project. The Accelerator culminates in a speaker series with other team representatives, where everyone will share about their community, projects, and impact.
We are looking for individuals and teams who have big ideas, who will benefit from joining a community that will support their growth, and are excited to learn about new tools and resources.
VIA's Vision for the Accelerator
Rather than a one-time training opportunity, VIA envisions a global community of project teams, startups, and even organizations connected through the accelerator experience. As "hubs" in this global community, teams are invited to connect with members of other cohorts to give and receive mentorship, build connections, and collaborate. We envision the Social Impact Leadership Accelerator as a launchpad for local, community-driven change that tells a story of global collective impact.
---
Details
Who should apply to the accelerator?
We invite anyone who is eager to connect with passionate peers across the world, seeking to make a positive impact in their community, take action to support sustainable development, and learn VIA's unique approach to experiential learning to inspire and train others to apply to the program. In particular, we are looking for teams that meet the following criteria:
Logistics

At least three team members (3-5 is an ideal team size)
Team members are comfortable with online learning and collaboration tools (some platforms we use include Zoom, Padlet, Google apps, and an online learning platform)
Team members are in the same geographic area and able to meet regularly (in-person or online)
Each team member can commit at least three hours per week to participate in accelerator activities and attend monthly virtual all-cohort meetings

Interests

Interest in VIA's mission and approach to experiential learning (experience with VIA is beneficial)
Interest in addressing local challenges related to Sustainable Development Goals (SDGs)
Interest in developing leadership, facilitation, and collaboration skills
Interest in collaborating locally, internationally, and across disciplines
Interest in staying connected and actively contributing to VIA's global community
A desire to provide support to and be supported by peers from other teams

Abilities

Demonstrated experience or strong potential as a collaborative leader
Demonstrated experience or strong potential to create buy-in and inspire a shared vision with collaborators
Demonstrated experience or strong potential to actively recruit and involve others, including individuals and potential partner organizations
Comfortable with learning, discussing, and presenting in English
Click on the text or (+) symbol of the blue bars below to learn more!
Please note that this program does not currently have any travel requirements due to the global pandemic. All program activities can be completed remotely.
Program Participation Fee
The team participation fee is $5,000 USD (regardless of the number of team members)
The program fee covers the cost of:
25+ hours of training and support from VIA staff and team coordinators over the course of 6 months
Coaching in team-building and professional development
Individualized feedback and coaching sessions for project elements
Access to an online platform and training resources
Post-accelerator project support and community networking opportunities
Financial Need-based Discount
As a result of the financial challenges that many individuals are facing due to COVID-19, we are offering financial need-based discounts. Teams with strong applications that demonstrate a commitment to fully participate in the accelerator will be considered for a financial need-based discount if they request it.
In the application, you can indicate what you believe would be a feasible amount for your team to pay if you are experiencing financial challenges.
$5000 (full program fee) – Financially thriving. Your organization can fund your participation fee and/or your team members have enough additional income or savings to spend without impacting your daily lives.
$4000 ($1000 discount) – Financially comfortable. Your organization can partially fund your participation fee and/or your team members have some additional income or savings to spend for a limited time.
$3000 ($2000 discount) – Financially stretched. Your team could spend some of your income or savings, but it would mean giving up other things for a limited time.
$2000 ($3000 discount) – Financially struggling. Your team has little savings, and spending some of your income on this program fee would significantly impact your personal budgets.
If your team needs a larger discount, you can share your specific situation in the application.
Please know that we will not require any financial disclosure statements. We trust that you are reporting your financial circumstances honestly.
Accelerator Mini-Grant
Successfully accepted accelerator teams will have the opportunity to apply for a competitive mini-grant as seed-funding for their project. More details on the mini-grant application process will be shared with teams in the spring of 2021.
Meet some of the past accelerator teams that have launched their own social impact initiatives around the world!
---
Educatalyst
Educatalyst envisions the Philippine youth to be more globally-minded, culturally aware, and socially responsible. We want to create opportunities for more Filipino junior high school students to have global learning experiences that help them develop 21st-century skills such as global awareness, cultural competence, and social responsibility. We will do this through experiential learning programs, such as a 10-day immersive trip to nearby Japan. View Educatalyst's Accelerator Speaker Series presentation.
"VIA taught me a lot about project management, cross-cultural collaboration, and leadership for impact. I enjoyed working through small assignments, supported by a wonderful global team of facilitators, to come up with concrete plans for action. I'm excited to bring our project to life!" – Hannah To, Founder

"The accelerator has helped me grow from a social development standpoint as well as personally. I have no direct experience prior but through training, modules, and seminars – we are able to see the importance of a carefully planned social innovation project. It has also helped me grow personally. Seeing other people from other countries (from other teams) work on relevant social issues energizes me to keep pushing for changes in my home country, Philippines." – Sergius Angelo Santos, Founder
---
LANN
LANN is a peer resource center where people can learn and inspire each other and provide accessible quality and critical education for everyone in Myanmar because it plays a key role in shaping our better future and what we want to see. Connect with LANN on Facebook.
"The Social Impact Accelerator Program changed us a lot. The best thing we learned is how to be a change maker who could implement projects effectively and efficiently." – LANN Founders
---
Nexplore
Nexplore is a social enterprise established for the reason to let people understand more about social issues and be willing to become a social changemaker, starting with doing simple things for their society. Connect with Nexplore on Facebook.
"To be a part of the accelerator, I love how we gathered and shared passion and experience from each person. Those storytellings inspired and provoked me to think of how far I've been through on this journey and how I'm going to grow up." – Weerawat Mongkolchoste (Earth), Founder
Application Period
Application Deadline: Late November / Early December 2021
Application Review & Team Discovery Calls: January / February 2022
Selection Results: Late February
Teams confirm intent to participate: March
Accelerator Course*
Month 1 – Initial Orientation Activities
Month 2 – Team-building

Themes: leadership, team structures

Month 3 – Communication

Themes: Interpersonal communication, conflict management and constructive problem-solving

Month 4- Ideation & Needfinding

Themes: UN Global Goals for Sustainable Development (SDGs), objective analysis

Month 5 – Project Development

Themes: Theory of Change and project development frameworks

Month 6 – Conference Prep

Themes: Defining learning outcomes and facilitation
*The accelerator course will include monthly synchronous online sessions with the entire cohort and individual team assignments through an online platform. Originally, the accelerator was also designed to include a local in-person 'sprint' session with an advisor and participation in the network conference, but in light of the global pandemic, these in-person activities will be implemented only if and when it is safe to do so.
Online Application
To see if this program is a good fit for you, your project, and your team, we want to get to know you better: your vision, motivation, and interests that brought you to the accelerator and what you hope to gain from this experience. The first section, Team Information, should be completed as a team. The second section, Team Member Information, should be completed by each team member.
Section 1: Team Information
Discuss these questions with your teammates, and then designate one member to start the application and fill out this section first.
Primary Team Contact
Team Name
Team Goals – What is your vision for your team? What do you hope you will accomplish together? How do you hope to impact your community?
Goals for Sustainable Development – Teams should aim to address at least one of the Global Goals for Sustainable Development (SDGs) within local communities. Please describe your interest and/or experience with the SDGs. Which are you most interested in addressing in your community?
Financial Need-based Program Fee Discount – As a result of the financial challenges that many individuals are facing as a result of COVID-19, we are offering financial need-based discounts. Assuming your team will share the cost of the program fee, help us understand what would be a feasible amount for your team to pay if you are experiencing financial challenges.

Paying It Forward – We hope that the financial need-based discount is an opportunity to jumpstart community impact projects for teams that are facing financial difficulty. How would you use this support to "pay it forward" in the future when your organization or team is more financially secure?
Participation Probability – If your team doesn't receive the discount, indicate the likelihood that you'll still be able to participate in the accelerator.

Number of Team Members – Indicate the number of members on your team. The following section will repeat for the number of team members indicated.
Team Member Names & Emails – Enter the names and emails of each team member, up to five total. If you have more than five team members who will be participating in the accelerator course, please contact Program Director Yuki Ueda (yuki|at|viaprograms.org).
Section 2: Team Member Information
After completing the Team Information section, the primary team contact should share the application edit link with the other team members. Each team member (including the primary team contact) should complete their portion of the Team Member Information page.
Personal Information – Name, current location, current occupation, and contact information.
Personal Goals – Why do you want to become a social impact leader through VIA's accelerator program? How will participation in this program support your personal, academic, or professional goals? What role do you see yourself playing in your community in the long-term?
Relevant Experience – Please describe your relevant experience (volunteering, nonprofit work, community organizing/outreach, project management, education/training, etc), including experience working with a team.
Time Commitment – Indicate the likelihood that you'll be able to join the all-cohort calls for the duration of the program.
Section 3: Application Review
On the second to last page of the application, you will see a summary of your responses from the From this page, you can click "Back" to correct any errors, or "Submit" to submit your application.
Discovery Calls
Selected teams will be invited to a discovery call with VIA staff. The goal of the discovery call is to get to know you and your project better, and also give you an opportunity to get a better sense of what to expect during the accelerator. Part of the discovery call will be a discussion about sustainability. The purpose of this discussion is for us to get a sense of your current understanding and thoughts on sustainability, and how it relates to your project.
The application will be available from late November / early December.
---
Frequently Asked Questions
How will accelerator teams be selected?
VIA will select teams based on their experience, qualifications, vision for the team, and potential to build a resilient team that has strong potential to develop an effective social impact project.
Is there a participant age limit?
No, we do not have a participant age limit. We have participants that are in university, graduate school, that have just started working, and others that have been working for some time.
Who is best suited to join the accelerator?
We are looking for people who desire to make an impact on their community and who have the time to participate in the accelerator. We also ask that participants are comfortable communicating (reading, writing, listening, and speaking) in English. However, you do not need to have perfect English.
Do team members need to be VIA alumni?
No, you do not have to be a VIA alumni. We welcome everyone to apply.
Do I need to have experience with Sustainable Development Goals (SDGs) to participate? 
No, you do not need to have experience with SDGs to participate. However, we encourage you to explore the topic of sustainability if you are interested in applying to the accelerator. Visit the United Nations website to learn more about the SDGs.
Should I have a project idea before joining?
You do not need to have a fully developed project idea, but you should have an idea of the kind of impact you want to make on your community. The accelerator program will help you and your team develop your idea.
What is the time commitment?
You should expect to spend an average of 3-5 hours per week on accelerator assignments and team meetings.
How many teams are accepted from each country?
We don't limit teams by country. We will only accept 5-6 teams in total. If you are from the same country and your team has a project goal that is similar to another team, we might ask you to consider joining each other. However, we do try to have a diverse representation of countries and project themes.