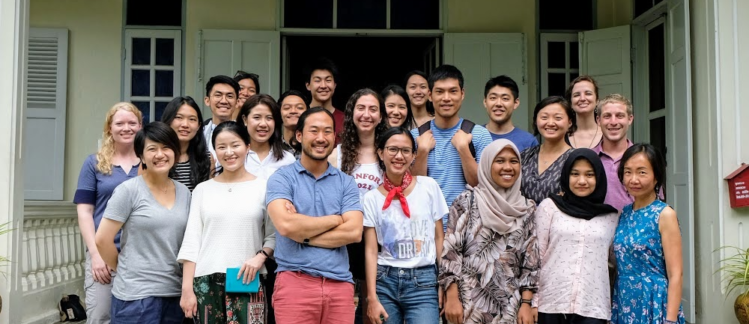 Overview
Program Dates: January - June 2020
Location: Online training, local projects, and conference in Chiang Mai (June 2020)
Application Deadline: December 15, 2019
The Social Impact Accelerator is designed for emerging leaders who are poised to take their ideas for a better world and push them forward. We are looking for individuals and teams who have big ideas and who will benefit from joining a community who will support their growth and are excited about learning about new tools and resources.
---
Details
What is the Chapter Accelerator?
Chapters will become the foundation of community-based programming and act as "hubs" in the greater VIA ecosystem. They connect emerging leaders with peers and local organizations and become a launchpad for action. The Accelerator is a 6-month training program for new chapter leadership teams. The Accelerator includes virtual trainings with other chapter teams across Asia and the US, independent team projects, and an in-person training sprint session. The Accelerator will culminate in a conference with other chapter representatives, where everyone will share about their community, projects, and impact. Through the Accelerator chapter leaders will receive training and guidance from VIA staff on how to design their chapter, identify their community and project goals, recruit members, create events, workshops, and programs, and implement impact evaluation. Chapter leaders will also act as peer mentors and thought partners with other members of the Accelerator cohort.
Why Start a Chapter?
To connect with passionate peers across the world, make a positive impact in your community, take action to support sustainable development, and learn VIA's unique approach to experiential learning to inspire and train others.
What does it take to start a chapter?
Logistics

At least three leaders per chapter
At least one leader who is a VIA alum and experienced with VIA's approach to experiential learning
Chapter leaders are in the same geographic area and able to meet regularly in person
Each leader can commit at least three hours per week to participate in accelerator activities

Interests

Interest in addressing local challenges related to Sustainable Development Goals (SDGs)
Interest in developing leadership, facilitation, and collaboration skills
Interest in collaborating locally, internationally, and across disciplines

Abilities

Demonstrated experience or strong potential as a collaborative leader
Demonstrated experience or strong potential to create buy-in and inspire a shared vision with collaborators
Demonstrated experience or strong potential to actively recruit and involve others, including individuals and potential partner organizations
Comfortable with learning, discussing, and presenting in English (for this initial session)
Click on the text or (+) symbol of the blue bars below to learn more!
Chapter leaders receive:
Training and support from VIA staff and advisors
Coaching in team-building and chapter development
Peer mentorship from other chapter leadership teams
Access to an online platform and training resources
An in-person intensive sprint session in their home location
A travel grant to attend the network conference in Chiang Mai, Thailand in June 2020, covering most transportation, lodging, and meal costs
Chapter leaders contribute:
Enthusiasm and commitment to launching a chapter community that will thrive and grow to act as a "hub" in the international VIA ecosystem
Peer support for other chapter leadership teams
At least three hours per week for chapter development, February – June 2020
Application Period:
November 1 – Application Opens
December 15 – Application Deadline
December 16-20 – Team Interviews
Mid-January – Selection Results
Accelerator Course*:
January – Initial Orientation Activities
February-March – Teambuilding & Training

Themes: leadership, interpersonal and intercultural dialogue, conflict management and constructive problem-solving

April – Ideation & Needfinding

Themes: UN Global Goals for Sustainable Development (SDGs), objective analysis

May – Project Development

Themes: Theory of Change and project development frameworks

June – Conference Prep

Themes: Defining learning outcomes and facilitation

Late June – Network Conference
*The accelerator course will include monthly synchronous online sessions with the entire cohort, individual team assignments through an online platform, a local in-person 'sprint' session with an advisor, and participation in the network conference in June
Before beginning your application, you can take the eligibility quiz to see if this is the right opportunity for you at this time.
Online Application
Part 1: Personal Information
Full name
Contact information
Current city of residence
Current occupation
VIA experience (if applicable)
Part 2: Deeper Questions
Why do you want to become a chapter leader?
Please describe your relevant experience, including experience working with a team.
What is your potential vision for this chapter? What do you hope the chapter will accomplish?
Chapters will work to address the Global Goals for Sustainable Development (SDGs) within local communities. Please describe your interest and / or experience with the SDGs. Which are you most interested in addressing in your community?
If you already have potential team members, please list their names. Each team member must complete their own application.
Group Interviews
Leader candidates will be asked to review the SDGs and be prepared to discuss which they believe would be most important to address in their local communities in a group interview. The group will also work together on an assignment to identify challenges and opportunities in your local community.
Ready to get started on your application? Click the blue APPLY button!

---
Frequently Asked Questions
How will chapter leadership teams be selected?
VIA will select chapter leaders based on their experience, qualifications, vision for the chapter, and potential to build a resilient chapter community that will continue to grow. It is possible that not all applicants from the same area will be selected as leaders for the first round, but all applicants will have the opportunity to join the chapter as members.
How long will chapter leaders serve?
We expect the initial leadership team to participate in the accelerator for 6 months (January – June), followed by serving one year as a leader. After the one-year term, the chapter will hold elections for the next leadership team. There is no "term limit" for leaders at this time.