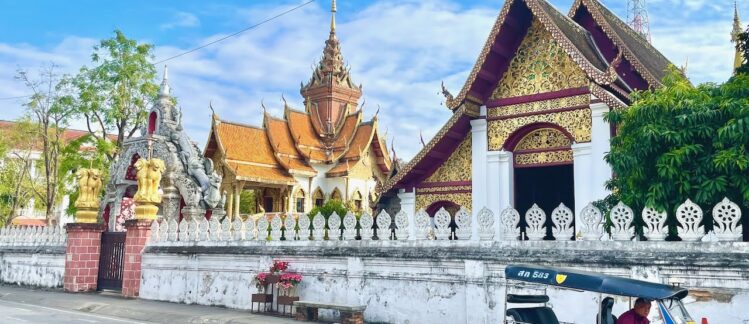 Overview
Program Dates: January 6-14, 2024
Open to: VIA alumni and guests, travel companions, and partners
Location: Bangkok, Mae Sot, and Chiang Mai, Thailand
Application Deadline: November 30, 2023
In celebration of VIA's 60th Anniversary, join other fellow VIA alumni, past and current participants, and first-time visitors for a one-of-a-kind study tour exploring various regions in Thailand!
Take a first-hand look at the beautiful landscapes and environments across Thailand! From gleaming temples to natural greenery, VIA's Thailand study tour will traverse Thailand's diverse culture through visits to Bangkok, Mae Sot, and Chiang Mai. In addition to exploring the local culture, the itinerary will include VIA's customary visits with innovative NGOs, VIA partners and fellows, and learning from the inspiring people of Thailand.
Meet the Trip Leader
This study tour will be led by Wallace Wong. Wallace joined VIA in September 2022 as Strategic Relationships Director. Prior to joining VIA, Wallace worked in non profit and education management in Asia for the past ten years, with volunteer experience servicing projects in Hong Kong, China, Nepal, Thailand, Poland and the Dominican Republic.
---
Tour Registration
Continue reading below to learn more about the tour, or click the blue APPLY button if you're ready to register. After clicking the APPLY button, you will be taken to the registration portal to create a user account. This will allow you to save your progress and return to continue your application at any time.
Details
Click on the section headings or ( + ) circles below to view more content:
Participation Costs
The $3,500 program fee covers items listed below and also includes a non-refundable, tax-deductible $500 donation to VIA.
Included:

Domestic travel within Thailand (three domestic flights and local transportation)
Lodging for a total of eight nights

Lodging will be arranged for two participants per room
$250 additional fee for private room for duration of the trip
Special accommodations can be arranged for families traveling with children (submit details in your registration form)

Some group meals
Most entry fees, guided services, organization and site visits
Participation in a VIA Social Impact Partnership Conference session

Not included:

International Airfare (est. $1800)

We recommend booking flights to arrive in Bangkok by January 6th and to leave from Chiang Mai on January 14th or later

Visa fees, if applicable
Travel and medical insurance (est. $30-70)*
Admission to some historical landmarks and cultural sites (est. $150)
Some meals
Shopping and other personal expenses

COVID-Related Expenses

Participants are responsible for any medical testing, care, or additional travel costs associated with COVID infection and treatment, including, but not limited to, the cost of modifying, extending, or cancelling any lodging or transportation arrangements before, during, or after the tour.
*Travel & Medical Insurance Coverage:
We require all participants to maintain health insurance coverage while traveling abroad. Please check with your insurance provider to understand what coverage you may or may not have while overseas. You can choose to enroll in your own insurance plan and provide proof of coverage. VIA can also arrange comprehensive travel health insurance coverage for US citizens through iNext's Comprehensive Ultimate Plan with Standard Political & Natural Disaster coverage at an additional cost (see policy details). If you choose this option, you will be enrolled for the minimum 10-day period (January 5-14 to allow for transit time), at an additional cost of $27 for travelers 60 and under or $62.60 for travelers over 60 years old. You will have the option to purchase additional Trip Cancellation & Trip Interruption coverage and/or extend your travel dates after initial enrollment.
Registration Fee Payment & Cancellation Policies
Invoice & Payment Deadline
After VIA confirms your registration details, you will receive an invoice VIA's finance department with instructions to complete the payment by early December. Full payment is due 15 days from the invoice issue date. If your invoice is issued 15 days or less before the tour start date, full payment is due when you receive the invoice.
Participant Cancellation
Tour registration fees are not refundable due to participant cancellation, but partial refunds may be considered in extenuating circumstances.
Tour Modification or Cancellation
VIA may at any time prior to or during the tour if travel and in-person activities are not possible due to natural disasters, including pandemics. You will receive a full refund if the tour is cancelled at any time prior to the tour start date, less the donation amount.
Travel Tips
We strongly encourage participants to pack and travel lightly as the group will be making several trips to different cities across Thailand.
Dressing conservatively, such as long pants and shirts covering your shoulders, is recommended be respectful of the local culture, especially during visits to heritage sites.
The weather will be very warm so light clothing is recommended.
Please bring cash to exchange and/or bank cards that can be used to withdraw cash internationally

Recommended items to bring
Insect repellent
Digestion pills
Sunscreen, sun protection (sunglasses, hats)
Comfortable shoes to wear
Appropriate travel documents (Passport, identification)
Additional travel preparation instructions will be provided to all registered participants in December.
Tour Itinerary
Schedule and activities are subject to change up to and during the tour.
Arrival in Bangkok (January 6-8)
Tour participants arrive in Bangkok
Meet VIA Strategic Relationships Director Wallace Wong at Suvarnabhumi Airport during the day or at Royal Rattanakosin Hotel in the evening
Stay at Royal Rattanakosin Hotel (2 nights)
The tour will begin in Bangkok with arrival on January 6th. We will spend the first two days exploring the city's rich history, visiting renowned heritage sites and local organizations working towards positive social impact in their communities.
Mae Sot (January 8-10)
From January 8th to 10th, we will travel to Mae Sot, a city in western Thailand along the Myanmar border that is a notable trade hub and gateway for Burmese migrants and refugees. We will visit a local school for Burmese migrant students and learn about the socio-economic issues faced by the community.
Chiang Mai (January 10-14)
Finally, we will head to Chiang Mai northern Thailand from January 10th to 14th. Chiang Mai is the second largest city in Thailand and the unofficial capital of the Burmese exile population for the last twenty years. Excursions will include exploring the Old City and experiencing Lanna cuisine and culture, visiting current VIA partner organizations and local social enterprises, and meeting current VIA fellows based in Chiang Mai at VIA's Social Impact Partnership Conference. The group will have an opportunity to meet current VIA partners based in Asia, along with VIA staff, including Executive Director Kazutoh Ishida, Program Director Kristy Ishii, and Program Director Yuki Ueda, who will be leading the conference.
Departures (January 14~) 
The alumni study tour will conclude on January 14th.
Participants may make their own arrangements to continue traveling or return home from Chiang Mai.
Registration Process
Before beginning your registration form, you will be prompted to create a user account. This will allow you to save your progress and return to continue or make changes to your registration form, even after submission.
You may register up to five individuals at once. We recommend registering multiple people if you would like to pay all registration fees for members of your party together. If you prefer to pay separately, we recommend registering separately.
Please be prepared to provide the following information for each member of your party:
Passport information
Emergency contact information (can be the same for all travelers)
Health information (allergies, immunizations, medications / medical conditions, dietary restrictions, mobility considerations, travel medical insurance preferences)
Accommodation preferences (single or shared)
After Registering
You will receive a confirmation email with instructions for next steps, including completing VIA's Risk Notice & Acknowledgement Form and providing proof of insurance (if not enrolling in iNext). We appreciate your prompt completion of these final steps of the registration process.
After our staff review your registration, they will reach out if they have any questions about your travel arrangements before our finance department issues your invoice (by early December).
Frequently Asked Questions
What is the purpose of the tour?

The tour is an opportunity for VIA alumni to reconnect with the community and current participants, meet social impact leaders and organizations currently working with VIA, and learn about VIA's new social impact and leadership development initiatives.

Where will the tour take place?

The tour will start in Bangkok, visit Mae Sot, and conclude in Chiang Mai.

How many days will the tour last?

8 days, inclusive of arrival on January 6th through January 13th. Participants may determine their travel plans from January 14th onward.

Are family members and friends allowed to join the tour?

Yes, spouses / partners, children, family, and friends of VIA alumni are welcome to join the tour!

Can I join part of the tour if I am unable to join for the full tour?

Yes, the tour details will be shared with you. You and your group may join for part of the tour. Your tour fee will be pro-rated based on the portion that you will join.

Do I have to pay for the tour and is there funding or a discount available?

There is a registration fee for the tour, as well as other costs not included in the registration fee participants must cover. There is no funding support or discounts for registrants.

How many people will join the tour?

We are expecting anywhere between 10 – 15 participants joining the tour.