As we prepare for upcoming programs, we're sitting down with all our program directors to have them share a little more about themselves, their passions, and what they're looking forward to this summer.
First up is Social Innovation Programs Director Yi Zhang, who will lead two Exploring Social Innovation programs in July and August, as well as program for NGO leaders. Then Yi will head to Japan in September to facilitate a design-thinking community project-based program in partnership with Rikkyo University. Yi will also join our Alumni Summit in Chiang Mai this June!
Introducing Yi Zhang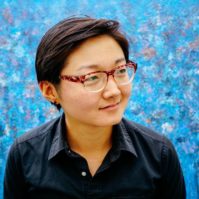 Could you tell us a little about yourself and how you got connected to VIA?
I've been passionate about social innovation and cross cultural exchange since my second year of college after supporting the 5-week International Development Design Summit at MIT with attendees from 30 countries. When I saw the job post for supporting VIA to run these social innovation programs several years later, I knew it was the one—I'm glad VIA thought so too.
Where is the most unexpected place you've found yourself?
Probably most unexpected place was in Cameroon, because I met Farmer Tantoh, an amazing Cameroonian social entrepreneur in Russia, and ended up visiting him in his home country to learn about his changemaking work.
What is something you could spend hours doing, and not notice the time pass at all?
Most creative things will make me forget the time, whether it's making a new notebook or a new dish in the kitchen, or making music with friends.
What is your favorite food away from home?
Dumplings! Especially Xiao Long Bao. I went to Australia for two weeks for the first time recently and even though I didn't eat out that often, I noticed I went to 3 dumpling restaurants…
Being a Program Director
What do you enjoy most about running programs?
In the program, meeting new groups of passionate and courageous people and seeing them enjoy and also grow. Working with alumni as coordinators, and over time, seeing how the programs evolve and where everyone's path takes them.
What has been your biggest challenge and your biggest success in the last year?
We've been quite successful expanding our programs from students to also educators and NGO leaders as well as socially-minded companies to create a bigger ecosystem for changemakers. Especially this year we had 4 social innovation programs in February alone and it was wonderful to meet so many lovely people. It was also the most challenging to juggle everything overlapping and working to balance team dynamics in this busy time. Definitely some big learning moments. I'm really thankful for all the participants and team members who pitched in and stepped up!
What have you got planned for this summer? Is there anything you're especially looking forward to?
Summer is quite full with programs, lots of amazing people — especially excited about all the alumni returning as coordinators! I'm also excited to schedule in some time in nature and out on a kayak!
What makes an awesome program?
Enthusiastic people who bring their full selves and all their curiosity, a fun and challenging set of visits and workshops and plenty of snacks and music!
What are you most excited to learn from your participants?
Their stories and dreams! And it's also fun to learn about the latest slang or trends from all different cultures 🙂
Any other wisdom or insights you'd like to impart?
Key to enjoying a social innovation program at VIA: Be curious, be courageous, be creative!