This retrospective of VIA's health care programs was researched, compiled, and written by Assistant Program Director Hinda Majri, who has supported the health care programs since 2021.
---
Overview of VIA's Health Care Programs
During these trying times, what better way to showcase VIA's values and strengths than to celebrate 25 years of its health care programs?

As I researched and spoke with many of our VIA family members in preparation for this anniversary blog, one thing became abundantly clear to me: the health care programs were created and continue to be improved out of a sheer desire to bring people together, allowing them to share their differences and perspectives, and also discover commonalities. These experiences are often catalysts to developing solutions for important medical and social issues. Indeed, over a quarter-century, VIA's health care programs have brought awareness and invaluable lessons to participants, fellows, and staff alike. With its health care programs, VIA has made everyone better equipped to be change agents in a world by creating spaces for pausing, reflecting, and seeing other perspectives, especially in the areas in which we consider ourselves experts.

With its health care programs held twice a year in the San Francisco area and currently virtually due to the pandemic, VIA has been on the leading edge of creating more open, reflective, and compassionate international medical professionals.
History
The first Exploring Health Care (EHC) program, launched in 1996, was initially created in collaboration with Tokyo Women's Medical University and Tokyo Medical University at the suggestion of Prof. Yoko Macuaga and Prof. Patrick Barron respectively. In the following 15 years, the program continued to grow consistently, adding participants from the University of Tokyo, Ehime, and Keio universities in 1999 and welcoming students from Nihon University in 2009 thanks to VIA's connection to Dr. Takayuki Oshimi who joined EHC as a faculty advisor in 2012. That same year, Dr. Oshimi helped launch Medical Exchange & Discovery (MED), a 3-week long summer program held on the Stanford campus, led clinical English sessions, and continued to act as faculty in residence for the first 6 years of the program.

By 2012, VIA's health care program became more diverse by welcoming medical students from other regions in Asia, including mainland China and Taiwan, and in 2021 welcomed the first participant from Myanmar.

In 2016, VIA piloted the Culture & Medical Exploration (CME) program, which focused on culture in the context of health care and was geared towards first- and second-year students. In addition to visiting research labs, CME participants had the chance to attend cross-cultural workshops, visit cultural spots in the Bay Area, and interact with students and faculty from the UCSF Global Health Department.

Following the spring EHC format, the summer MED program was shortened and moved away from Stanford in 2019, offering participants more convenient opportunities to connect with medical professionals and organizations in the San Francisco Bay Area.

In the past 25 years, over 800 university students from Asia studying in various health care fields from mainland China, Japan, Taiwan, Myanmar, and other regions have joined VIA's health care programs to discover new perspectives and explore new insights on medicine and its practice in the United States. Through program activities in the Bay Area, participants not only get to explore hospitals, clinics, and medical schools but also have more hands-on opportunities such as physician shadowing and volunteering in senior centers.
The expansive list of topics explored during the health care programs has challenged participants to consider new ways of thinking and triggered a desire to bring new insights and perspectives on medicine and its practices from the US and other regions of Asia represented by fellow participants to their own community.
Both Sara Ackerman and Ellison Weeks, former VIA health care Program Directors, as well as current Program Director Lina Yamashita, highlighted how the programs enabled participants to question their beliefs and assumptions and to notice the contrast in their own country, school, or hospital. The EHC program offered medical students a chance to "shift thinking from judgment and simple categorization of good/bad to thinking more broadly about culturally situated practices,"' Sara said.
Ellison discussed the impact participants have on doctors and speakers by sparking interest in them and forcing them to see things through a new lens, "Speakers would refer to things that they learned from a past student, incorporating things they had learned from past cohorts into their sessions." Partners are always very generous and excited to support the program due to this powerful reciprocity.
The value of VIA's health care programs is not only in the exchange of ideas and knowledge but also in the impact it has on personal lives. Through reflections, participants learn more about themselves and their place in the world and what kind of health care provider they want to be.
Ryota Endo (Virtual EHC, Summer 2021) shared the impact of attending the very emotional palliative care panel:
"I used to think I was too young to start thinking about death but now I think I should because thinking about how I want to die makes me think about how I want to live."
Keeping the program relevant is always a top priority for Program Directors when designing and updating the curriculum. While very important topics like palliative care, organ transplantation, and medical education are staples of the program, topics like AIDS education in the 1990s, PTSD in relation to natural disasters response in the 2000s, humanizing homelessness in the 2010s, or the effects of the pandemic in 2020s enabled participants to connect their education and professional development with current social issues.
Past and current Program Directors all shared the impact the health care programs had on both their professional and personal lives. Sara Ackerman, MPH, PhD, former EHC Program Director in the mid-1990s shared that her time at VIA inspired her to pursue a master's degree in public health. She is now an Associate Professor in the Department of Social and Behavioral Sciences Bioethics Program at the University of California, San Francisco.
Program Director Spotlight
Similarly to other Program Directors, Lina's experience working on the health care programs for the last 4.5 years taught her to be more authentic to herself, "After MED 2018, I had gained enough confidence to make more substantial logistical and curricular changes, including placing more of an emphasis on disparities in health and health care." She also emphasized her appreciation for collaboration and staying open, pointing out the importance and value of feedback, ideas, and perspectives from advisors, partners, and alumni.Lina also shared her newly gained appreciation for the importance of facilitating non-program-related activities. "Before coming to VIA, I had little experience facilitating team-building but now that I've had the pleasure of leading 9 teams, I've especially come to realize the importance of setting aside time and space for icebreakers, energizers, 1:1 chats, socializing, and hands-on activities not directly related to the program topics."
Most importantly, Lina credits VIA for making her more flexible and adaptive. "I've learned to respond to changes small and large, whether coming up with alternative activities, rearranging an entire program schedule due to an airline strike, or developing a virtual program." Her time at VIA has also taught her to not over plan. "While VIA hasn't changed the fact that I am a planner, I have actually come to prefer to not over-plan as I used to. I've come to trust my instincts in the moment and say or do things depending on the particular context or circumstance."
Health Care Programs 25th Anniversary Survey
In August of 2021, VIA sent out a survey to all health care program alumni, former staff, fellows, and advisors, to collect reflections and updates from the community. Of those who responded, 5% participated in the early 2000s, 77% in the 2010s, and 15% in the 2020s. The survey demographic and responses reflected the essence of the health care programs' objectives.

Among the respondents were a great balance of past program participants, partner faculty members, and fellows, as well as past program directors, all working in a variety of fields, both medical and non-medical, such as general practice, emergency medicine, public health, and research.

Sifting through the thoughtful survey responses highlighted the impact the health care programs have had on all of the participants' professional development as well as personal growth.

ABCO. Active. Brave. Curious. Open-minded.

Particularly, many alumni credit the programs for pushing them out of their comfort zone, and sometimes even being challenged and teaching them to be courageous and open-minded. Program Director Lina Yamashita introduces the acronym ABCO at the beginning of each program to encourage participants to be Active, Brave, Curious, and Open-minded. I was lucky to personally witness the impact of this simple mindset, seeing participants coming out of their shells and challenging themselves.

Chao Christina Wang (MED 2015) shared,
"I forced myself to raise [sic] hand to be the first one to answer/ask questions, share reflections and give feedback….gradually I found it not that scary to play a more active role in activities and I was not as bad as [sic] imagining. The experience is still encouraging and motivating me to be a better self and try not to worry if it is not perfect."
Yuki Horiuchi (EHC Summer 2021) shared,
"I achieved my goal that I was more active, brave, and curious. For example, I asked many deep questions to panelists and improved [sic] knowledge [sic] that differences between medicine in the US and that in Japanese."
Cross-cultural Perspectives & Communication
Learning to look at things from different perspectives, increasing their communication and discussion skills, both in their professional and personal lives, was also a major highlight of the program's benefits for program participants.
"VIA's program gave me a new type of challenge: mentoring and educating colleagues who are from a completely different continent, country, and culture. I quickly learned that the way I set up a conversation (the tone, the topic, my slang, and mannerisms) can influence how my audience engages. Within these improved communication skills, I also learned how to be a welcoming listener." Krystal S (EHC 2019)
Mentorship. Leadership. Confidence.
But what really stood out was the impact that the program experiences had on all of the participants' confidence, whether it was about their increased mentoring and leadership skills, English abilities, or confidence to be their true selves and follow their dreams and paths truthfully.
"I initially wanted to pursue medicine, but working as a Global Health Fellow helped me realize my calling towards education. I was happiest and most fulfilled teaching the participants and facilitating discussions and interactive learning experiences." Joriene Mercado (MED 2017).
Being Connected
Those who participated in the health care programs often seem to have discovered the interconnectedness of all things which impacts them in their personal lives as well. One EHC Spring 2013 participant wrote:
"I became [sic] to know how huge the world is, and how easy [sic] to change myself."
Krystal S (EHC 2019) said,
"Though, years later, I find myself integrating these communication skills with my family and friends as well."
Curriculum and Linguistic Ability
The powerful impact the curriculum had on participants was also highlighted. One Global Health Fellow alumna said,
"I developed [sic] in my abilities to lead discussions about complex and sensitive topics."
The new Pre-Program English Support Session added to the EHC curriculum Summer 2021 also had a great impact on participants who credit EHC to the development of their linguistic ability. One EHC 2021 alumnae shared
"Although we had only 7 days in the program, on each day we could have enough chances to speak, listen, and read English and that really helped me to improve my skills. I also appreciate having let us share our opinions, because, through such steps, I could learn some new words or good expressions from my peers."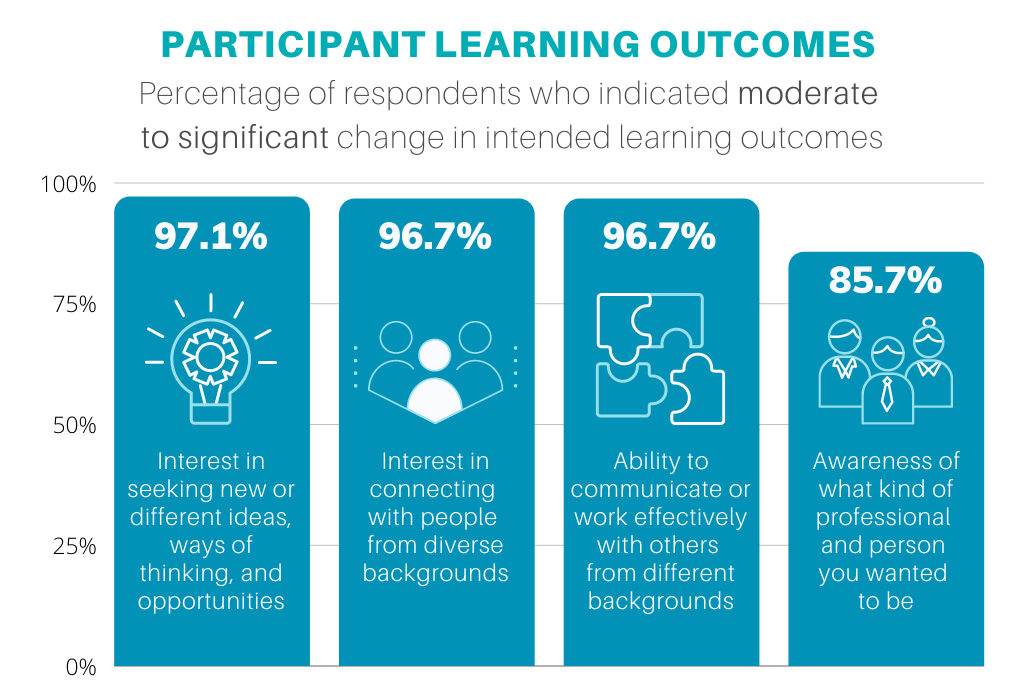 Alumni Spotlight: Saki Suzuki
Saki Suzuki, EHC 2012 program participant and 2014 Global Health Fellow alumna from Japan, described how Dr. Oshimi recommended the EHC program to her. She saw a rare opportunity to travel abroad and improve her English skills while increasing her knowledge and perspective as a medical student.

After graduating from medical school, Saki became a cardiovascular surgeon. She has since transitioned her career to medical education and became a faculty member at NUSM (Nihon University School of Medicine) last year.

Saki described how she enjoyed interacting with the EHC members so much that she wanted to be more involved in EHC activities. This prompted her to apply for the Global Health Fellowship, which was established for the first time in 2014 as a role for program alumni to return and mentor new participants while continuing to build their professional and cross-cultural competencies.

One of the biggest rewards Saki gained from her EHC experience was to be able to support and mentor first-time participants by using her own past experience. She also acknowledged the improvement of her English when participating the second time, increasing her courage and confidence in speaking English without hesitation. Her experience still impacts her today in her new position as a specialist in medical education where she is involved in medical English classes in collaboration with English instructors.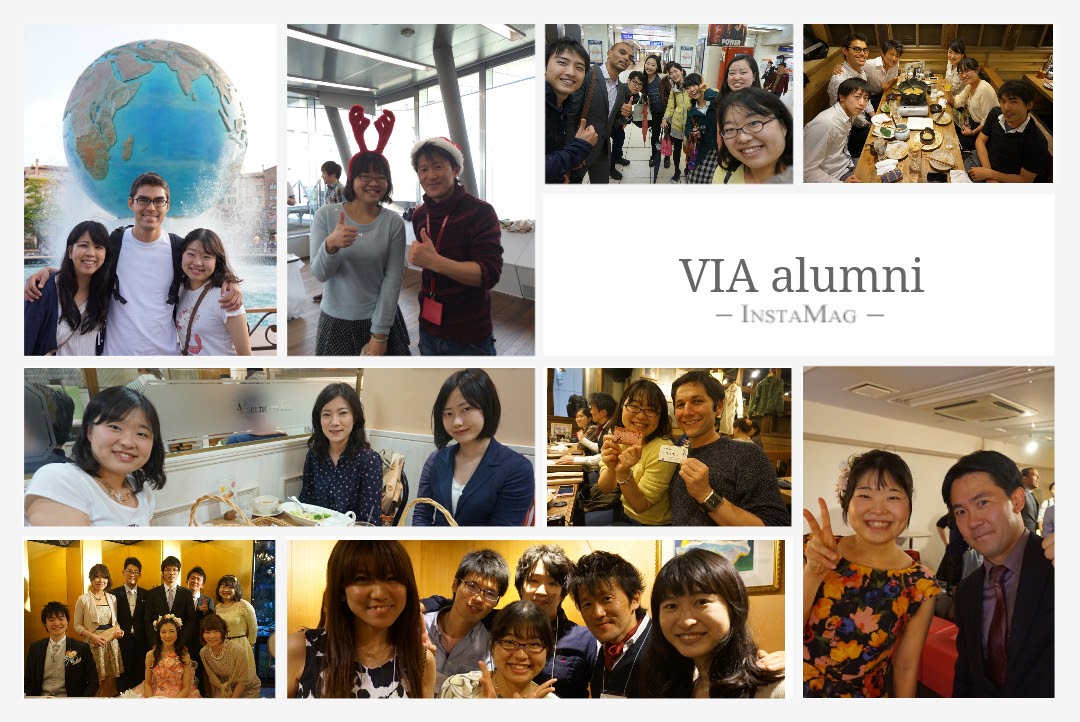 Looking Forward
Over the last two and a half decades, VIA's health care programs have evolved to reflect and engage with current social issues and challenges. In recent years, health care disparities have been a very important topic, particularly taking center stage during the current pandemic. As VIA always encourages participants to see current challenges and world events as an opportunity to learn, the health care programs will continue to adapt to future challenges, keeping minds open and facilitating more collaboration to continue the growth and expansion of individual medical professionals and the program itself.

Both Lina Yamashita and Ellison Weeks have enthusiastically highlighted the importance of continuing to use current issues as a way to develop the curriculum. Topics such as climate change and digital health are a few areas that could be further explored in the years to come. The recent pandemic also highlighted the need to keep addressing health disparities, as well as the need to explore the importance of patient-doctor relationships.

2021 was the first year that VIA offered the EHC program virtually. While originally a necessity due to the pandemic travel restrictions, this opportunity made it possible for those who may not have otherwise been able to join an in-person program to gain knowledge and skills alongside like-minded young medical professionals from across Asia. Virtual programs have made the VIA health care programs more accessible and affordable and worth exploring their expansion in the future.