I think I've made the right decision to go. I hesitated before I booked the airline tickets and packed my luggage, because I had to give up my internship opportunity if I chose to go, and I wasn't sure how much progress I could make as a person during only ten days of visiting the United States. But luckily, I got the acceptance letter and decided to go anyways. As it turned out, the GLE program wasn't exactly what I had expected, but it was truly beyond my expectation.
In retrospect, those 10 days in the US were informing, inspiring and fulfilling. Every day was fully packed. We participated in workshops that were designed to refine our skillsets, went to visit some non-profits in the bay area, listened to talks given by influential speakers, and analyzed the global/local issues we care about using what we have learned during this program. The visit to the Delancey Street was one of the most encouraging. All of us were moved by how the residents there made their transition from living in the rock bottom to standing back up again. And I still remembered the talk given by Amy Paulson who shared her personal story on healing herself and passing on her attitude and gratitude to other people who also have been going through trauma in their lives. And also the genuine smile and "thank you" from the homeless after we had volunteered to serve them breakfast at the Glide Memorial Church were more than enough to keep us warm and touched.
Another thing I want to share as I reflect on the past 10 days with GLE, is an organization called 826 Valencia Street that my education group visited on one of the sunny mornings in February. 826 Valencia Street is a non-profit that aims to improve the writing skills of the under-resourced children. There're other organizations that intensify their efforts in bringing books and teachers to children who do not have much educational resources as many of us who do. The founder of 826 Valencia Street is also concerned about those children's education, but he has done his help a little bit differently. He is a writer, and he's a firm believer in writing to empower the mind and ignite passions for life. That's why he started out the 826 Valencia Street, and has since then provided many children with opportunities to express in words and lift themselves out of poverty. Moreover, 826 Valencia Street publishes poems, fictions and essays written by children who took part in their program on a quarterly basis, so it's impressive to see how these children have progressed and excelled in writing. I was inspired by this organization, because I too am a writing enthusiast. And after I came back, I bought two of their quarterly books and I'm enjoying it. Below is a little poem written by an 11-year-old I extracted from the book. I'm not going to give any remarks on this piece, but I'd like you to feel this power as well:
Ocean
by Mariangel Nati Delgado
Waves are a reminder to sit back
and relax. When they go whoosh
you know it means life is alive.
Then I hear animals also enjoying
our ocean that provides them with food
and a habitat.
Somewhere near the animals and
the ocean, I see children laughing
and playing around like they
know that life is just about the
bay and it will stay that way.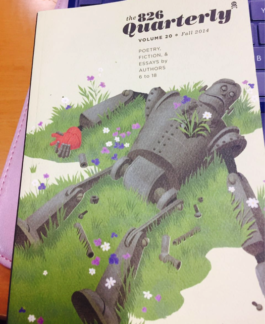 Last but not the least, the most rewarding gift I gain through participating in this program is the network our GLE group built altogether. We stood in a circle, shared our inspirations and intentions for the day, had great fun playing games or simply joking around. Everyone is contributing and learning. It's amazing to see how such relationship forms during so short a time. And to keep it strong and profound, we need to continue sharing our inspirations and intentions for the coming week or month or year. So keep connected, keep growing.
Glad to be invited on this part of journey with you all. I know we're now in different parts of the world, but we're heading the same direction. So let's work together, let's share, let's meet again!